If soy milk is your preferred plant-based milk, you're aware that store-bought options are handy and widely available these days. Unfortunately, they are also costly, and the price could suddenly add up depending on how many members of your family use soy milk. Since soy milk is often packaged in half-gallon cartons, the amount of soy milk you could purchase is also limited.
Instead of buying canned soy milk from the grocery store, the finest soy milk maker would allow you to savor hot fresh soy milk that is free of additives as well as other chemicals. Aside from soy milk, the machines can make a variety of beverages and even meals.
This article could guide you if you are having difficulty choosing which soy milk product is best for you because there are so many options on the market.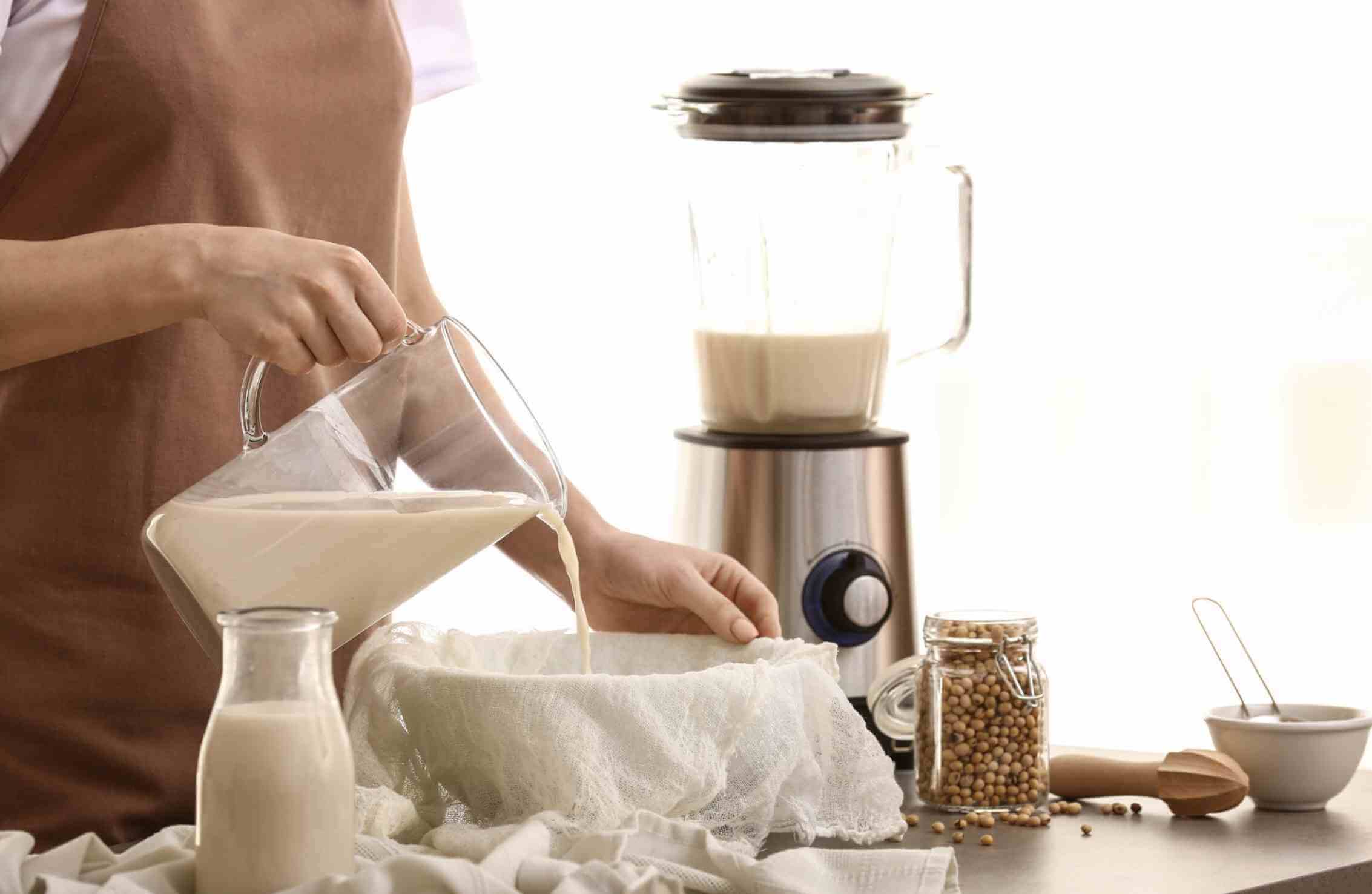 Making your own soy milk can help you save money on shopping while also ensuring you always have fresh milk on hand. A specialized soy milk machine makes the procedure simple and mess-free. Most soy milk makers are flexible since they are also used to prepare other plant-based kinds of milk such as almond or oat milk. Some models can even create porridge, soup, fresh juice, and grind coffee beans. We've researched the best options for you, so all you have to do is choose one that meets your needs, style, and budget
Here are the top soy milk makers:
SoyaJoy G5 Soy Milk Maker

Features that we find excellent:
This model has a 1.6-liter tank.
7 new functions make cooking easier.
It includes a reheat feature.
The maker is equipped with a stainless-steel cooking pot.
The outside is covered with an insulating thermal flask to minimize noise.
The blades and patented PGF provide a superfine and smooth result.
The LED shows the cooking time and the current operation of the maker.
The temperature sensor keeps the food from overcooking.
General review:
The latest version of SoyaJoy's renowned soy milk maker includes easy-to-clean stainless steel inside and works with simple buttons on top. You may choose whether to make milk from soaked or dry beans. When preparing milk from grains or nuts, you have the option of making raw nut milk (milk that does not need to be boiled), grains, chunky soup, or porridge.
This machine is designed to complete each process at the optimal temperature. It soaks and grinds the beans before cooking the final result for more than 20 minutes at temperatures exceeding 200 degrees. The set comes with a metal strainer for filtering, a plastic scoop cup for measuring beans, and an instruction manual.
Tribest Soyabella Automatic Nut & Seed Milk Maker SB-130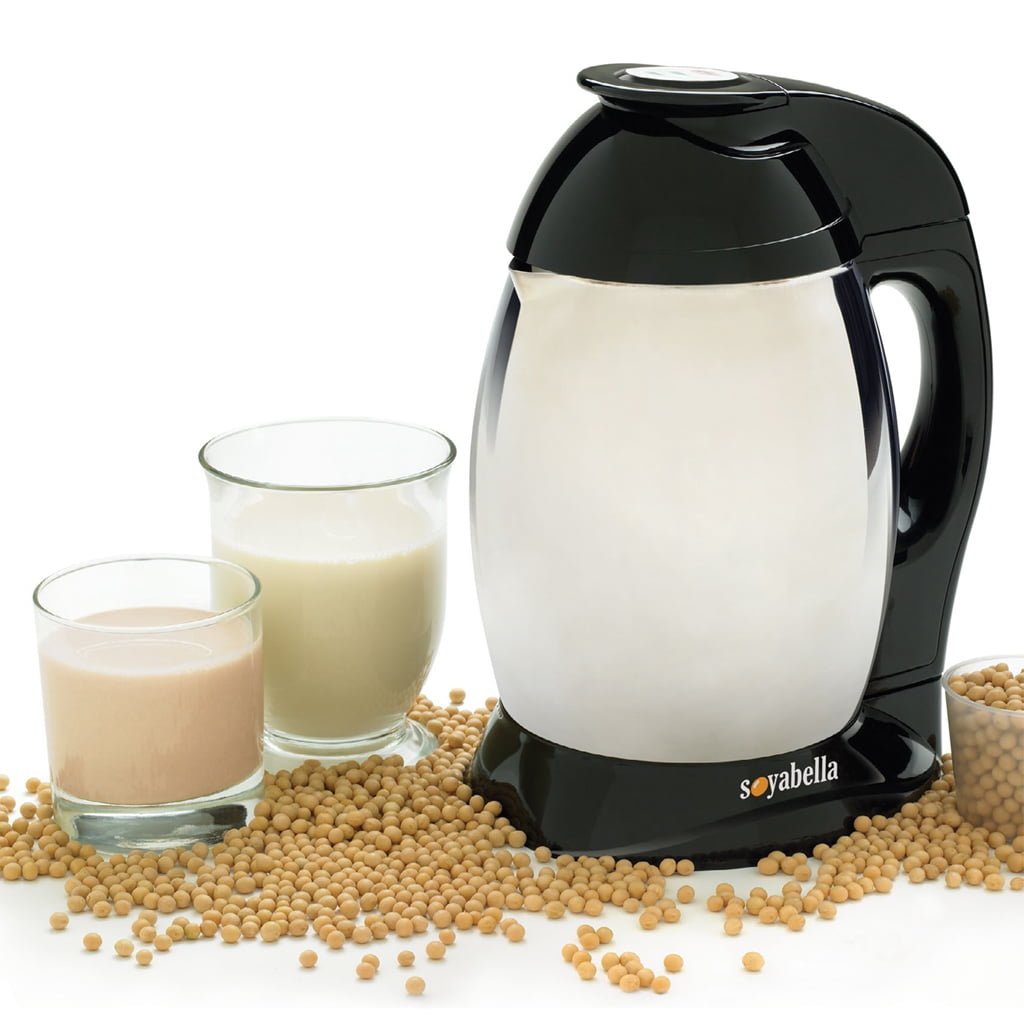 Features that we find excellent:
This electric machine can produce soy milk in 15 minutes.
The patented blades grind the dry beans and grains into fine powder.
A new function, milk temperature control, has been added.
It contains overheating and overflow protection circuitry.
It has a concealed heating element for safe cleaning.
General review:
Because soy milk takes just 15 minutes to prepare, you can put this machine up while cooking breakfast and have soy milk ready when the eggs and toast are done. Raw nut milk is even faster, requiring only 30 seconds to make if the nuts are already soaked. If you prefer a cup of coffee in the morning, it can be changed into a coffee grinder, allowing it to earn its keep in your kitchen even if you don't drink soy milk every day.
The inside is made of stainless steel, making it easy to clean. Temperature and grinding settings are adjustable, allowing you to use the recipes you want. The pulp is caught by a filter, so you may consume the soy milk straight away, while some users prefer a second filtering option to remove the remaining pieces of pulp.
Idavee Brand Presto Pure Soy Milk Maker IAE15

Features that we find excellent:
The maker can hold up to ½ gallons of liquid.
It has 7 functions to help with preparing various recipes.
This machine can crush seeds, nuts, rice, and a variety of other ingredients.
The complete maker is built of stainless steel to ensure durability.
The maker distributes heat evenly from the bottom.
General review:
This option is the finest soy milk maker for large families or those who frequently drink and bake with milk alternatives since it can prepare a half-gallon of soy or nut milk at a time. The heated functions include dry beans or nuts, wet beans or nuts, porridge, rice soy milk, corn juice, and pureed soups. It also offers a feature for preparing juice without heat, which is useful for people who follow a raw food diet.
This design lacks an internal strainer. A nylon straining bag, on the other hand, is available separately. However, the Presto Pure Soy Milk Maker comes with a measuring cup, pitcher, filter scrubbing pad, and cleaning brush. It features a dual-layer stainless steel body that is simple to clean both inside and out.
Joyoung DJ13U-P10 Soy Milk Maker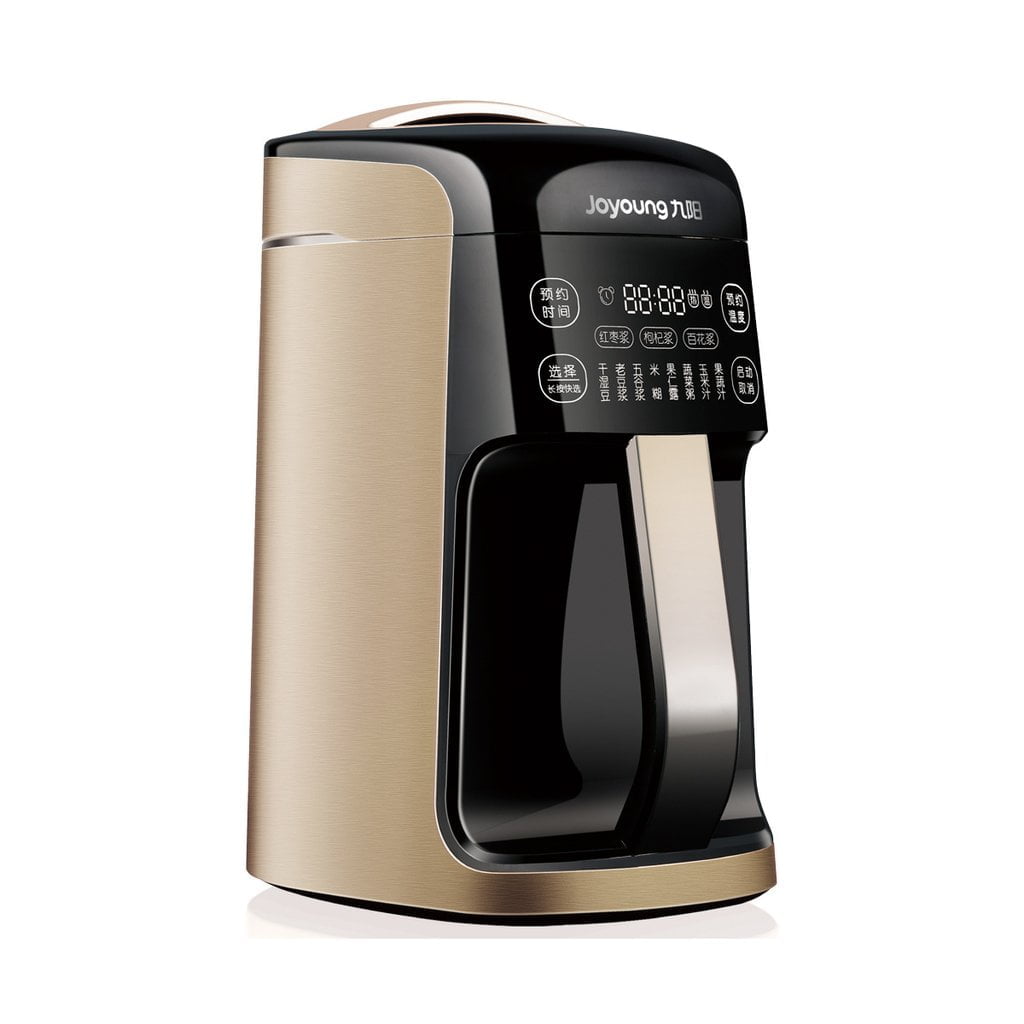 Features that we find excellent:
It can hold between 900 to 1300 mL of liquid.
You could program the maker's timer and function to enjoy fresh milk in the morning.
With 2000 revolutions per minute, your drink is perfectly fine and smooth to enjoy.
The machine has more than 8 settings for cooking soy in various styles.
Additional cleaning equipment is included.
General review:
This soy milk maker, which has the shape of a coffee maker, will look perfectly at home on your kitchen counter. The grinder does not come with a filter or strainer, but the company claims it produces super-smooth soy milk that can be consumed without filtering. Many consumers agreed, while others still preferred to remove the very last pulp using their own filter.
This soy milk maker features timing and temperature presets, allowing you to control it to create soy milk when you want it. The touch screen settings are in both Chinese and English, and several customers complained that the English options were small and difficult to read when they were still getting adapted to the device. Presets include beans, grains, rice paste, nut milk, porridge, corn juice, juice, and four various flavors of soy milk such as date, rose, classic, and goji.
Chufamix Vegan Milker Premium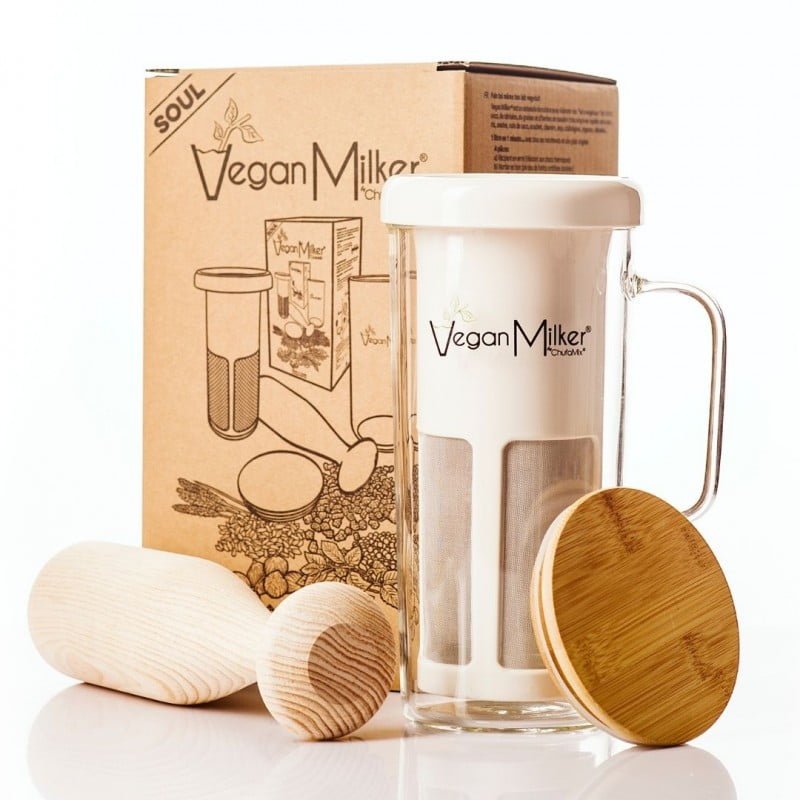 Features that we find excellent:
It is a manual soy milk maker that comes with a mortar, jar, lid, and filter.
The mortar is made of natural wood, which allows you to comfortably smash the soy without tiring your hand.
The filter is made of BPS-free plastic and can be used in regular food.
To avoid rust or corrosion, the mesh is made of stainless steel.
It is affordable and easy to store.
General review:
You must use your own hand blender to produce the blending power that pulverizes the nuts, seeds, or beans in this milk maker. After blending, squeeze the liquid from the pulp and through the filter with the provided mortar.
The Vegan Milker does not cook or soak your beans beforehand, nor does it heat the product once it has been blended; it just filters the pulp from the liquid combination after it has been blended. This milk maker produces strained milk in five minutes, depending on the power of your immersion blender. The provided container is labeled with measurements for 0.8 (approximately 27 ounces) and 0.5 liters (nearly 17 ounces). The components nest together for storage, taking up minimal room on your shelf.