Green beans, whether steamed, boiled, or canned, aren't always a mouthwatering veggie. But by adding texture to the beans, they go from sad greens to vegetables you'll want to eat night after night. In her book Cook This Book (Amazon.com, $20), Molly Baz explains that the way food feels in your mouth influences its flavor and enjoyment. "Thinking about textures is important when choosing ingredients for a dish."
This is demonstrated in Baz's lemon-garlic green beans recipe. The pistachios add a satisfying crunch, and the cold beans add a fresh, earthy flavor. It can improve a dish's texture and flavor, says Baz. The citrus flavor of the lemon-garlic green beans complements umami-rich entrées like steak or grilled mushrooms for plant-based eaters.
Make Baz's lemon-garlic green beans for a summer dinner party or a solo meal tonight. They'll make you forget about the soggy, bland beans you ate as a kid (and adult). (Any leftover beans can be used in this vegetarian paella.)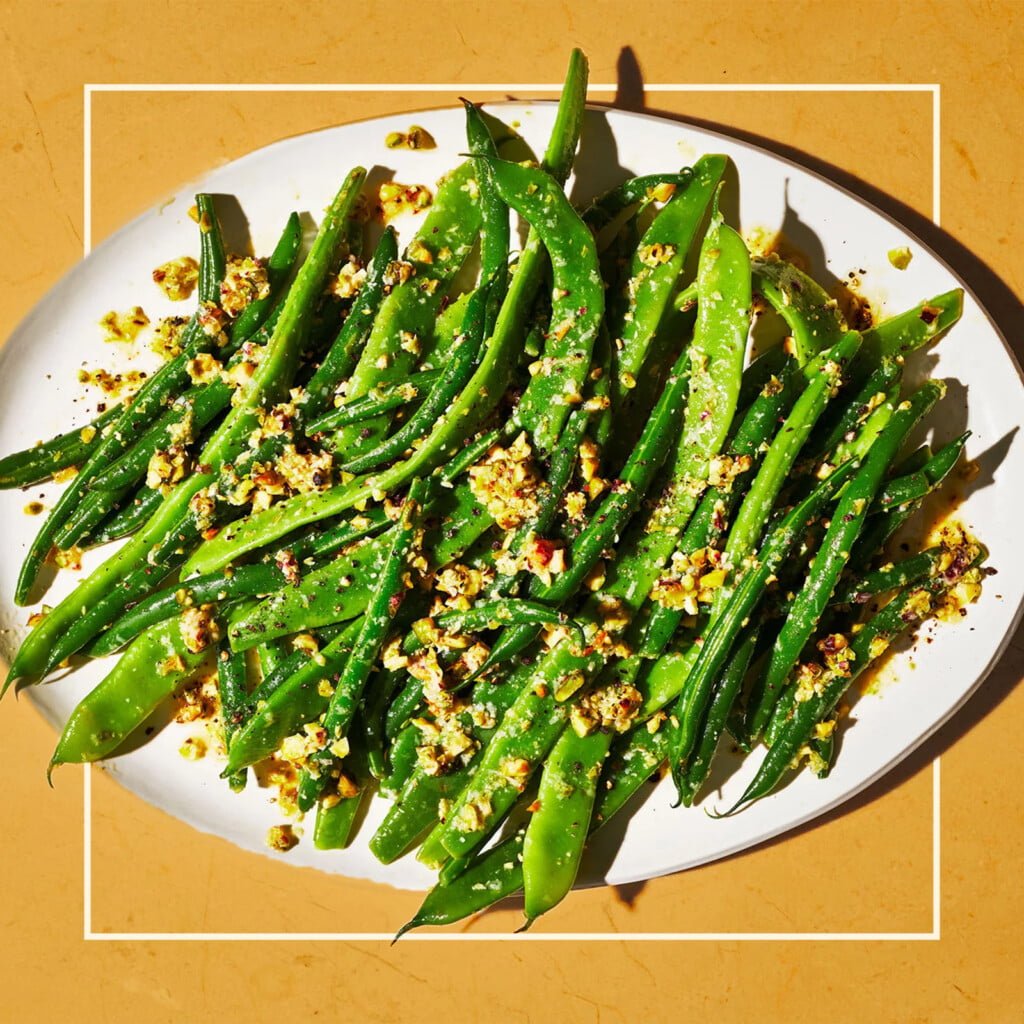 Green Beans with Lemon, Garlic, and Pistachio Vinaigrette
Serves: 4
Cook time: 6 minutes
Total time: 20 minutes.
Ingredients
3/4 cup roasted, salted pistachios
1 1/2 lb. green beans, romano beans, or wax beans, or a combination, ends trimmed
Freshly ground black pepper
1/3 cup grated Parmesan (about 1/2 oz.)
1/3 cup extra-virgin olive oil
Directions for a perfect lemon-garlic green beans
Bring 4 quarts of salted water to a boil in a large pot. Pistachios are finely chopped to lentil size.

Stir in beans and cook for 5–6 minutes until tender but not limp. Fill a large bowl with ice and water. Transfer cooked beans to an ice bath to stop cooking. Cool them in an ice bath.

In a medium bowl, finely grated garlic and lemon zest. Juice both lemons and whisk them into the bowl. Slowly whisk in the oil. Add Parmesan. Dressing with salt and pepper. Add pistachios.

Drain and dry beans on a clean kitchen towel. Toss green beans in the dressing bowl. Add more salt and pepper to taste. If making ahead, refrigerate covered.