Shampoo is so popular that most women take for granted. Choosing the right hair shampoo is extremely important since shiny hair is what we desire. We need shampoos that will restore our hair's shine and silky texture, especially since it goes through so much every day. By thoroughly cleansing and hydrating your scalp, the best shampoos for shiny hair will revitalize the appearance of your tresses. Here are 5 suggestions for elite products to help you get shiny glossy hair. 
L'oreal Paris Dream Lengths Restoring Shampoo
L'oreal, a French personal care company, is the world's largest cosmetics company and has developed activities in the field concentrating on hair color, skincare, sun protection, make-up, perfume, and hair care. With the motto "Because we're worth it", L'oreal wants the customer to gain the confidence they need and find their own selves.
This repairing product is formulated with castor oil and a vitamin blend to help you achieve the long hair of your dreams. It is suitable for all hair types because its formula is free of parabens, dyes, aluminum, and formaldehyde.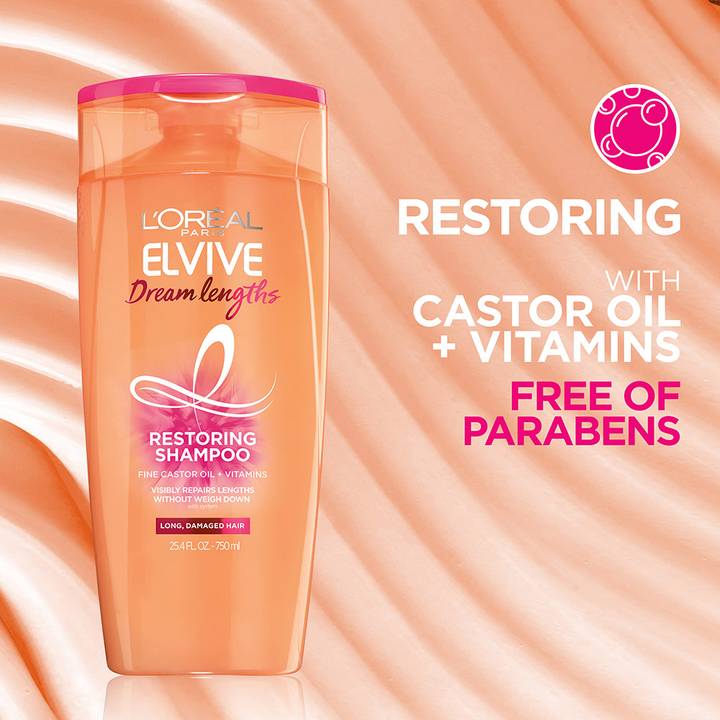 Elvive Dream Lengths Restoring Shampoo for Long and Damaged Hair is an absolute must-have for anyone with long hair. It's made with fine castor oil, vitamins B3 and B5, and it reduces breakage and visibly repairs hair damage without weighing your strands down. The sweet, fruity fragrance that adds to this product will absolutely please you. 
SheaMoisture Curl and Shine Coconut Shampoo
Owned by Unilever, Shea Moisture is an American personal care company that specializes in shampoo, conditioner, and body wash. SheaMoisture's goal is to create better-for-you cosmetics, hair care products, and skincare products that are always eco-friendly, cruelty-free, and fair-trade. They give back the goodness by helping nonprofit organizations and women in underserved communities around the world.
Managing messy curls isn't as difficult as you think with SheaMoisture Coconut & Hibiscus Curl & Shine Shampoo! This product will leave your hair shiny, bouncy, and unbelievably manageable. If you're looking for a shampoo that doesn't contain sulfates, this sulfate-free hair care product produces a rich lather that smells great while cleansing your hair and scalp of impurities.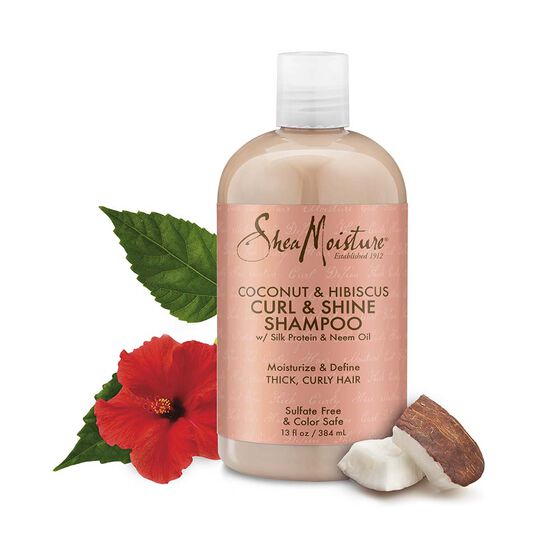 The formula combines hand-selected natural ingredients and certified organic Shea Butter to create a gentle cleanser that improves hair health and restores luster. This gently hydrating formulation contains coconut oil, which moisturizes and protects hair while replenishing lost oil. Rosemary and Aloe Oils hydrate the hair even more, and Hibiscus flower extracts improve hair elasticity, reducing breakages and split ends.
Herbal Essences Shine Collection Shampoo
Herbal Essences is a Procter & Gamble hair care product line. It is a natural force, born from nature, made with natural ingredients, and designed for those who want to feel and experience what is genuine.
If you prefer a natural cleanser for your tresses, this Herbal Essences Shine Collection Shampoo is a good option for you. This product thoroughly cleanses and adds light moisture to leave your hair looking healthy and shiny. With its ability to make hair soft, smooth, and frizz-free, this product is a godsend for those with dry, dull, and damaged hair.
Moreover, the natural oil in the product promotes hair growth that is longer and stronger while reducing breakage. It also contains a blend of chamomile, aloe vera, and passion flower extracts. The best thing about this one is that it is suitable for many different hair types, such as fine, flat, straight, colored, and oily hair.
Oribe Shampoo For Brilliance And Shine
Established in 2008 by Oribe Canales – the most famous hairstylist in the world, Oribe was the first company to introduce luxury hair-care products to the market. Oribe has evolved from a high-end hair care brand to a global beauty authority that provides hair care, skincare, body care, makeup, tools, and accessories. The brand has a strong presence in top-tier professional salons as well as leading specialty retailers worldwide.
Oribe Shampoo for Brilliance & Shine comes in a royal midnight blue bottle that exudes luxury and elegance just by looking at it. This product provides the long-lasting luster and an elegant polish to your hair with jojoba and rice proteins.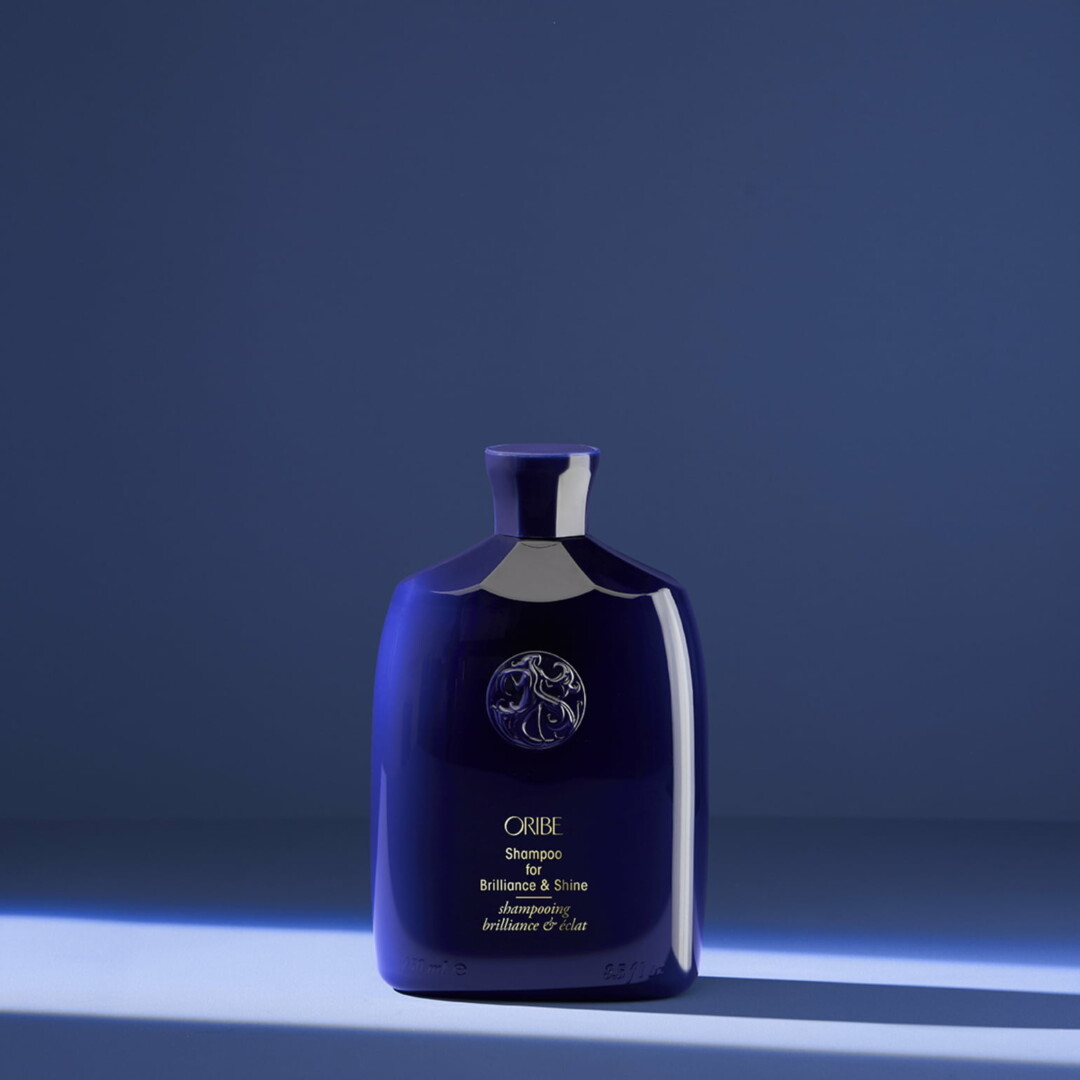 The Oribe Signature Complex including watermelon, lychee, and edelweiss flower protects hair from oxidative stress, photoaging, and the breakdown of natural keratin, all while shielding it from drying, damaging, and color-depleting effects of the elements. This product can be used for straight, wavy, curly hair. 
OGX Thick & Full Biotin & Collagen Shampoo
OGX, created by an international corporation of the same name and founded in 2006, provides women with a one-of-a-kind experience in terms of beauty, skincare, and hair protection.
This thickening shampoo is ideal for flat to medium volume hair and helps create more abundant-looking locks. The nutrient-rich, plump-it-up formula contains vitamin B7 biotin, collagen, and wheat protein, and it helps maintain growth for healthy-looking, thicker hair. This product also includes hydrolyzed wheat proteins for thicker, healthier-looking hair.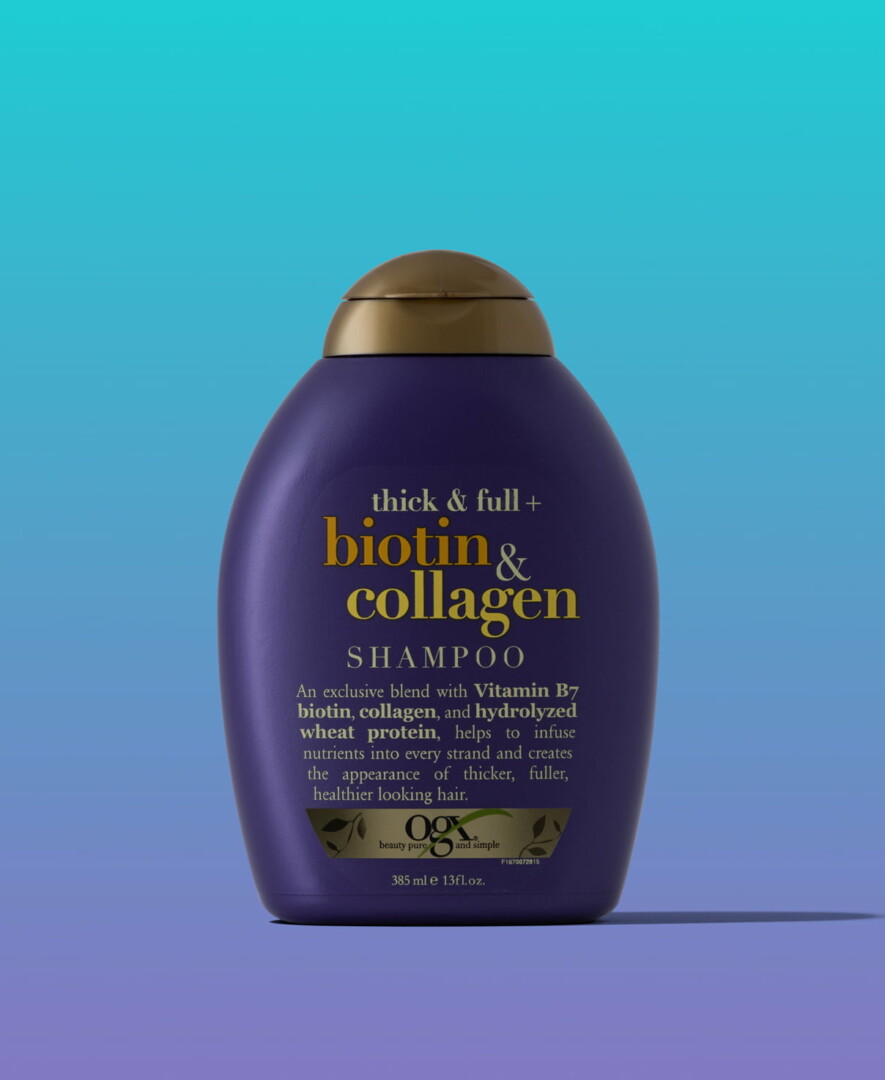 Furthermore, the scent of bergamot, jasmine, and vanilla makes lathering up an all-around sensory experience that leaves locks smelling irresistibly good. This one is paraben-free and contains sulfate-free surfactants to help add volume to your tresses. To achieve the best results, combine this with the rest of the OGX Biotin & Collagen hair care collection.