Christmas draws near and our stomach is craving for some exquisite holiday foods to enjoy with our family during the holiday.
Traditional holiday foods are good and all but eating the same kind of foods every Christmas is starting to feel redundant. A few changes in the holiday menu will be an excellent way to conclude the year and give your family members a pleasant surprise through these dishes. Today, Illume will expand your culinary horizon with these holiday foods.
Shuba
Originated from Russia, this dish is a celebrity on the Russian dinner table during the holiday. Shuba means " herring under a fur coat" and its main ingredients include pickled herring, hard-boiled eggs, grated vegetables, and mayonnaise. The " fur coat" in its name represents the layer of mayonnaise on top of it. Aside from its stunning appearance, this dish contains a lot of protein, potassium, antioxidants, and vitamins A and B.
Bûche de Noël
If you are a fan of France cuisine, the Bûche de Noël also known as Yule log might be able to satisfy your appetite. Yule log is a famous sweet dessert during Christmas in France. There are many ways to prepare this dish so you don't have to worry about it not being able to suit all of your family member's tastes. It is usually decorated with fruit and icing sugar. Furthermore, this dish can be served on New Year's Eve too.
Spiced hot chocolate
Let's blow away the cold breeze of winter with this unique drink called spiced hot chocolate from Peru. Instead of drinking the usual hot chocolate, let's mix things up a bit, shall we? By adding in some extra spices such as cinnamon, chili, powder, cloves, and nutmeg, you can give your family a pleasant and warm surprise with this beverage. If possible, you can make a popular cake named panetón to enjoy with this drink.
Hangikjöt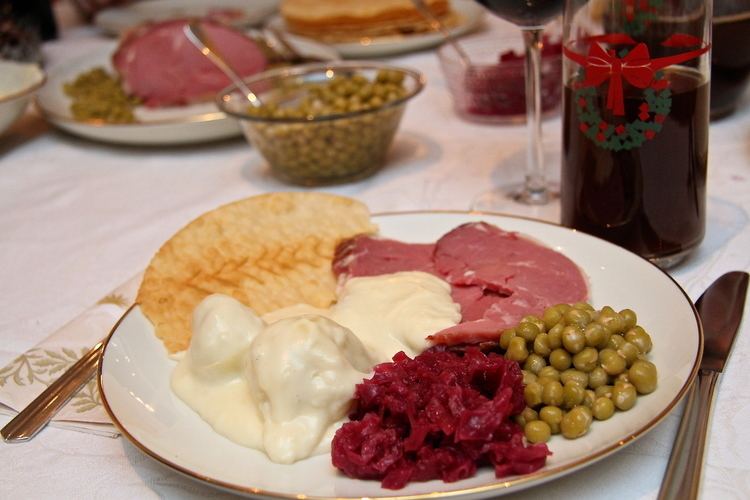 Not many people have the chance to taste Iceland cuisine, but through this dish, you will have the chance to experience Icelandic culinary. Hangikjöt is also known as "hung meat", this dish is made of smoked lamb or mutton. The way of making this dish is used as its name. It is recommended to pair this dish with green beans, potatoes coated with white béchamel sauce, and some pickled red cabbage.
Pasteles
A classic yet never go out of fashion dish served during Christmas in Puerto Rico. This delicacy from Puerto Rico requires a lot of time and patience from the one who cooks it. The inside of the pasteles is a mixture of ground pork and spice sauce blended adobo. The outer portion is made from a masa dough made of grated green bananas, yautía, and spices. After a few hours of waiting, warp the masa in banana leaves as a finishing touch. To enjoy this Puerto Rico Christmas delicacy, you should eat it with rice, meat, fish, pigeon peas, and hot sauce.
Kutia
The members of the Ukrainian Orthodox Church have a signature dish that is served during Christmas, that dish is called Kutia. The ingredients for this dish are quite easy to find which include wheat berries, poppy seeds, dried fruit, and honey. This dish carries the characteristics of Ukrainian foods, full of nutrition. This dish has its own influence on the meal because it is expected for all guests to have one spoonful. According to Ukrainian tradition, we have to wait until the first star appears in the sky before we can start the Christmas feast.