Hailey Bieber, a supermodel and the creator of Rhode, is almost unparalleled when it comes to breaking new ground in the most sought-after fashion trends. Many young girls get crazy about Hailey Bieber's nails.
Along with her infamous glazed donut nails, which made their debut at this year's Met Gala and were refined by nail technician Zola Ganzorigt, the star's radiant glazed donut skin was a sure hit for beauty enthusiasts this summer.
The model, 25, showcased her go-to nail artist Zola Ganzorigt's frosty chocolate manicure in a TikTok video she posted over the weekend.
Bieber captioned the video, "I know we're tired of my constant color switch up but … the chocolate glazed donut nails are really hitting for me for fall."
Her followers were obviously smitten with the new design because they left comments expressing how much they like the darker appearance.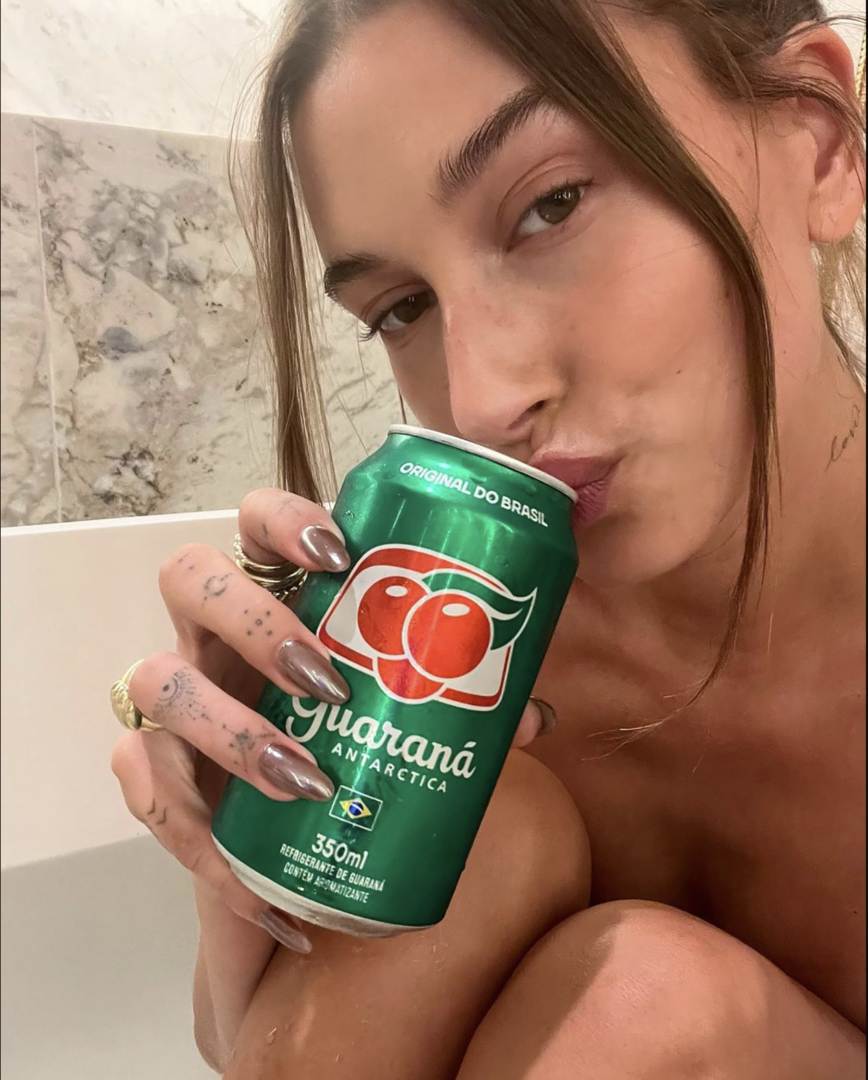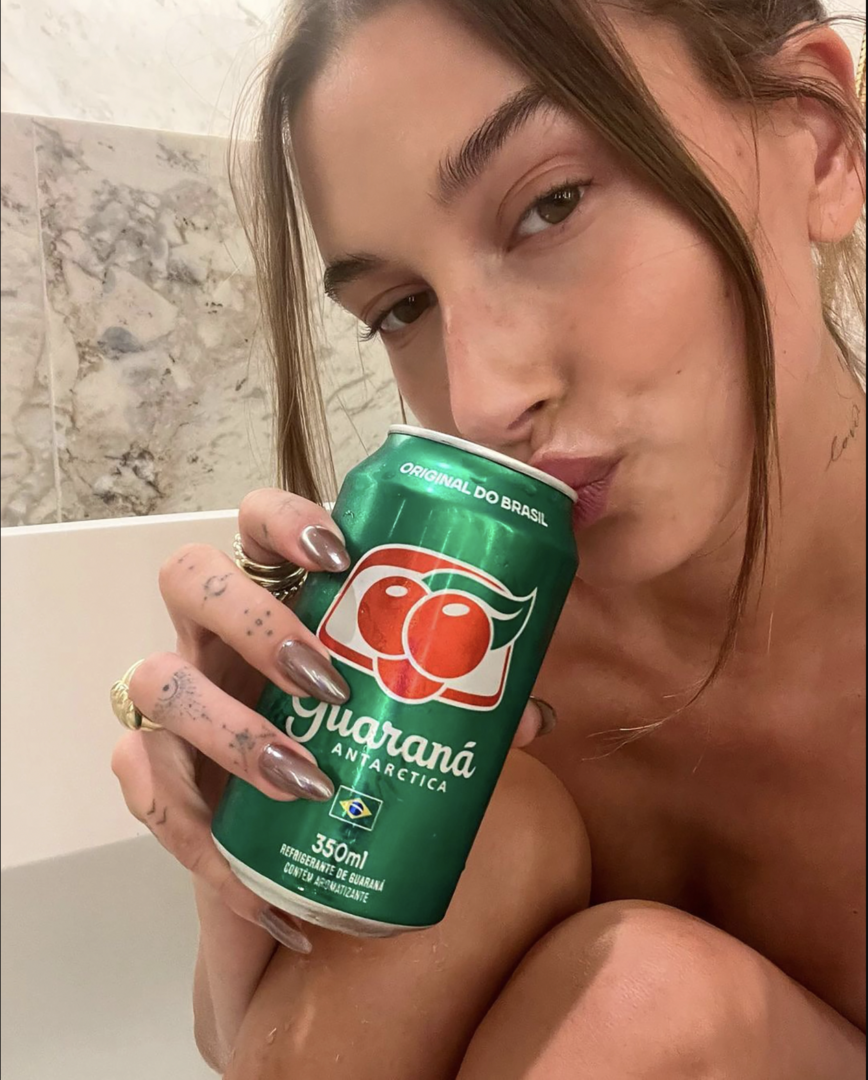 The cocoa-themed update, however, wasn't popular with everyone. One person commented, "My grandma began this trend hunnayyy." I want these grandma nails, they're so gorgeous, said another.
At the 2022 Met Gala, Bieber unveiled her original "glazed donut" nails, which Ganzorigt had made by layering OPI GelColor in Funny Bunny over OPI Chrome Effects Mirror Shine Nail Powder in Tin Man Can.
The delectable manicure quickly gained popularity on social media and even Vanessa Hudgens asked Ganzorigt to do her nails in the same style.
Since then, Bieber has experimented with several base colors, like as purple and gray, to match the packaging for her Rhode skincare products. Ganzorigt's has also given a lesson for the "strawberry glazed donut" manicure look.
"We were originally just doing translucent white, but after I put on the color, I asked Hailey to try the chrome effect because it would match her dress. That's how we discovered [the] 'glazed donut' nail", noting that it's "very basic but attracts everyone's eye" and that "once you have it, you'll get addicted to it."
Breakdown Hailey Bieber's Nails: A Chocolate Glazed Donut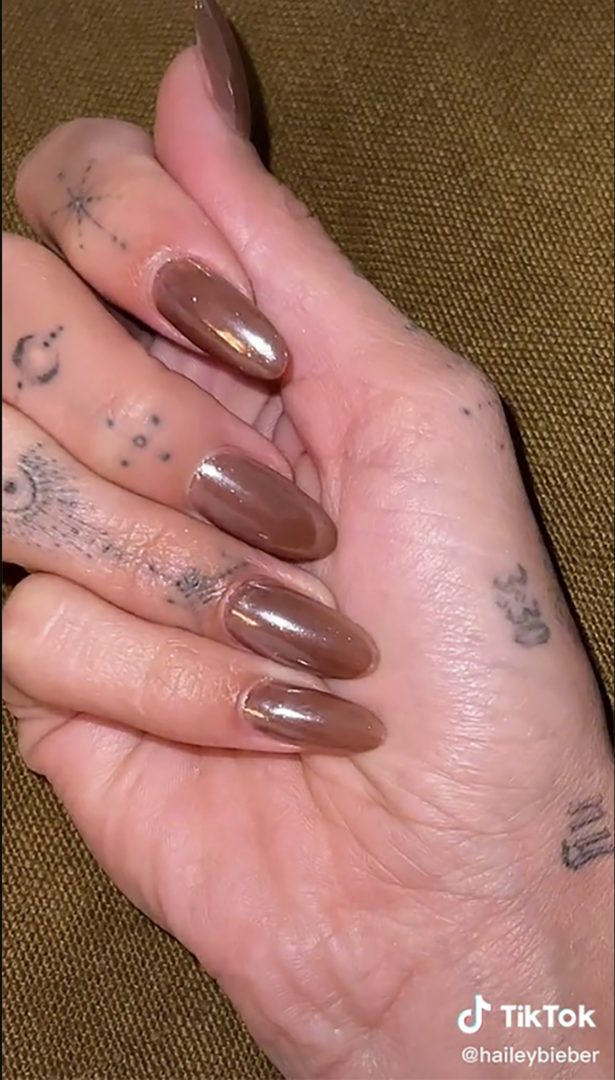 Here are some great tips to make her chocolate nails:
1. Apply the GelColor Stay Strong Base Coat, and then let it dry for 30 seconds under an LED light.
2. Apply a single coat of polish, cure for 60 seconds, and then combine GelColor Stay Shiny
3. Top Coat with a few drops of the Coffee Bean and Spiced Brown Daisy Nail Designs gel colors.
4. Apply GelColor Stay Shiny Top Coat next, let it dry for another 60 seconds, and then clean the nails with an alcohol pad.
5. Using a disposable eye shadow applicator, apply Chrome Effects in Tin Man Can to each nail; remove any extra with a fluffy brush.
6. After applying a second layer of Stay Shiny Top Coat, cure for 60 seconds.
Styles of Hailey Bieber's Nails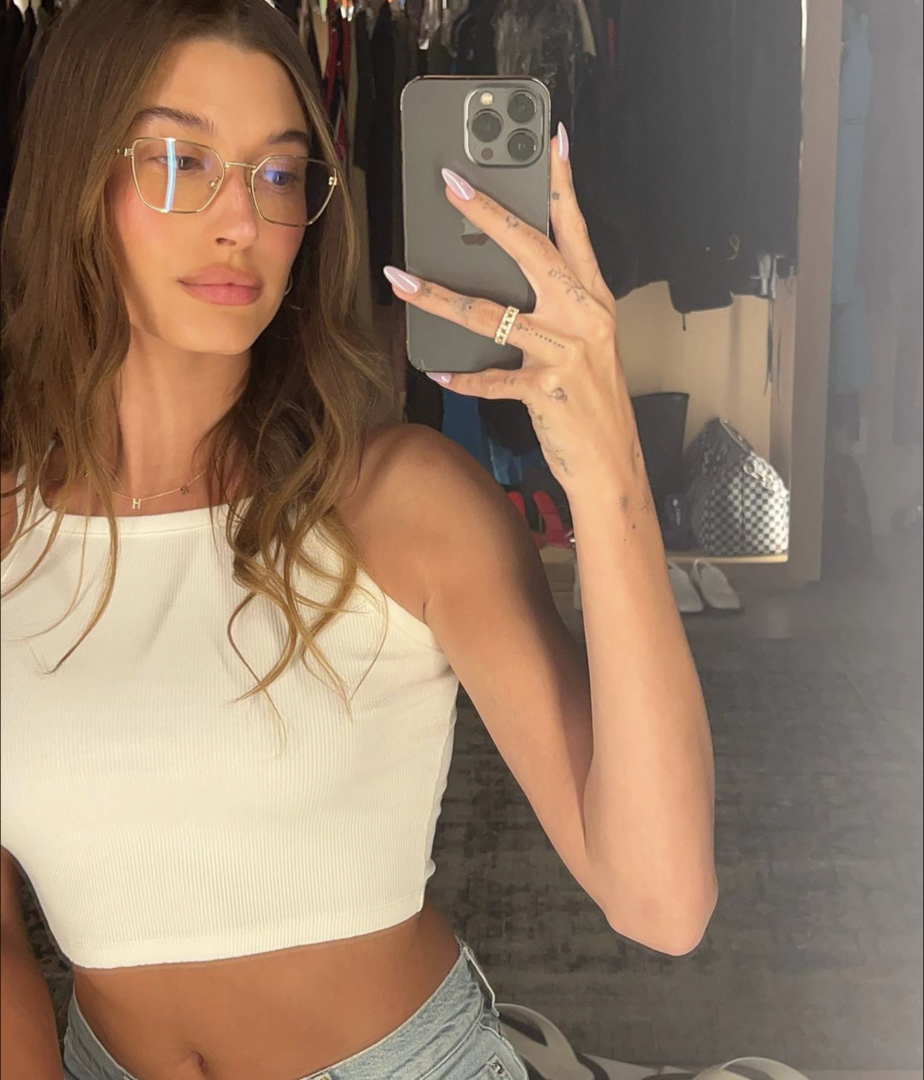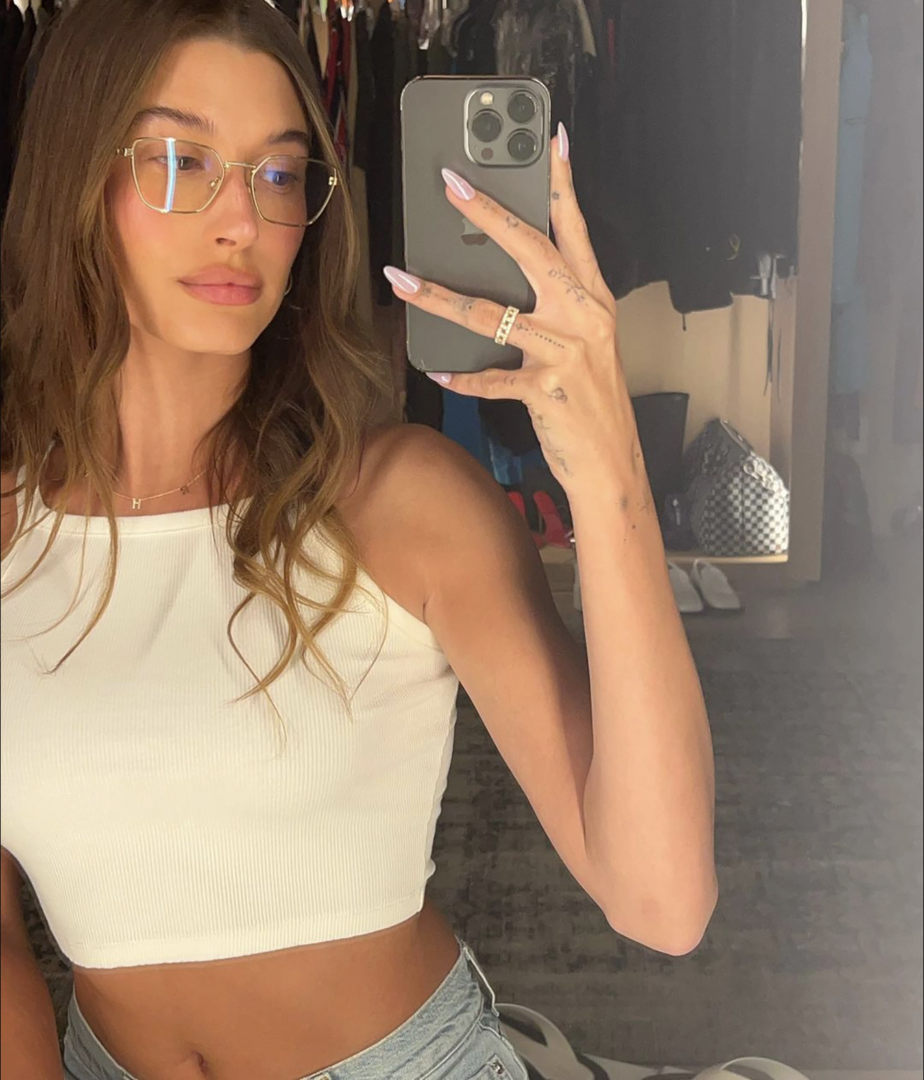 Over the years, Hailey Bieber's nails have sported a variety of nail trends. He has worn stiletto nails as well as nails that are long and sharp. Short and rounded nails are his current nail style, and he appears to be sticking with it. Hailey Bieber constantly keeps her nails well manicured and shiny, and she frequently changes the color of her nails to go with her dress or mood. Her favorite hues include black, pink, and nude.
Hailey Bieber has a history of setting trends, and this is no different with her nails. Here are a few of the most distinctive nail designs he's worn throughout the years:
1. A traditional French mani Bieber started out with a traditional French manicure for his nails. This appearance is classic and always presents well.
2. Nails with negative space With his subsequent manicure design, negative space nails, Bieber took a chance. In order to achieve this effect, leave significant gaps between the color of your skin and your nails. Although it can be challenging to execute, Bieber succeeds in making it look stylish and edgy.
3. Shiny Nails Bieber has worn glitter nails on multiple occasions for a more glossy appearance. For special occasions or when you want to give your outfit a little more shine, this style is ideal.
The art of nails
Although Hailey Bieber's nails has a history of stirring up controversy, his most recent action has many perplexed. The pop star wore intricately designed black and silver nails as he and his wife Hailey attended the Met Gala. Although the meaning of the nails' symbolism is unclear, some individuals have hypothesized that they represent a reference to the art world.
For a while now, Bieber has been recognized for his appreciation of the arts. Even some of the biggest names in the business, such as the street artist Alec Monopoly, have worked with him on projects. His most recent manicure may be an indication of his support for the arts community and its creators. Some people think Bieber's nails can be a metaphor for how digital art is transforming more traditional kinds of art.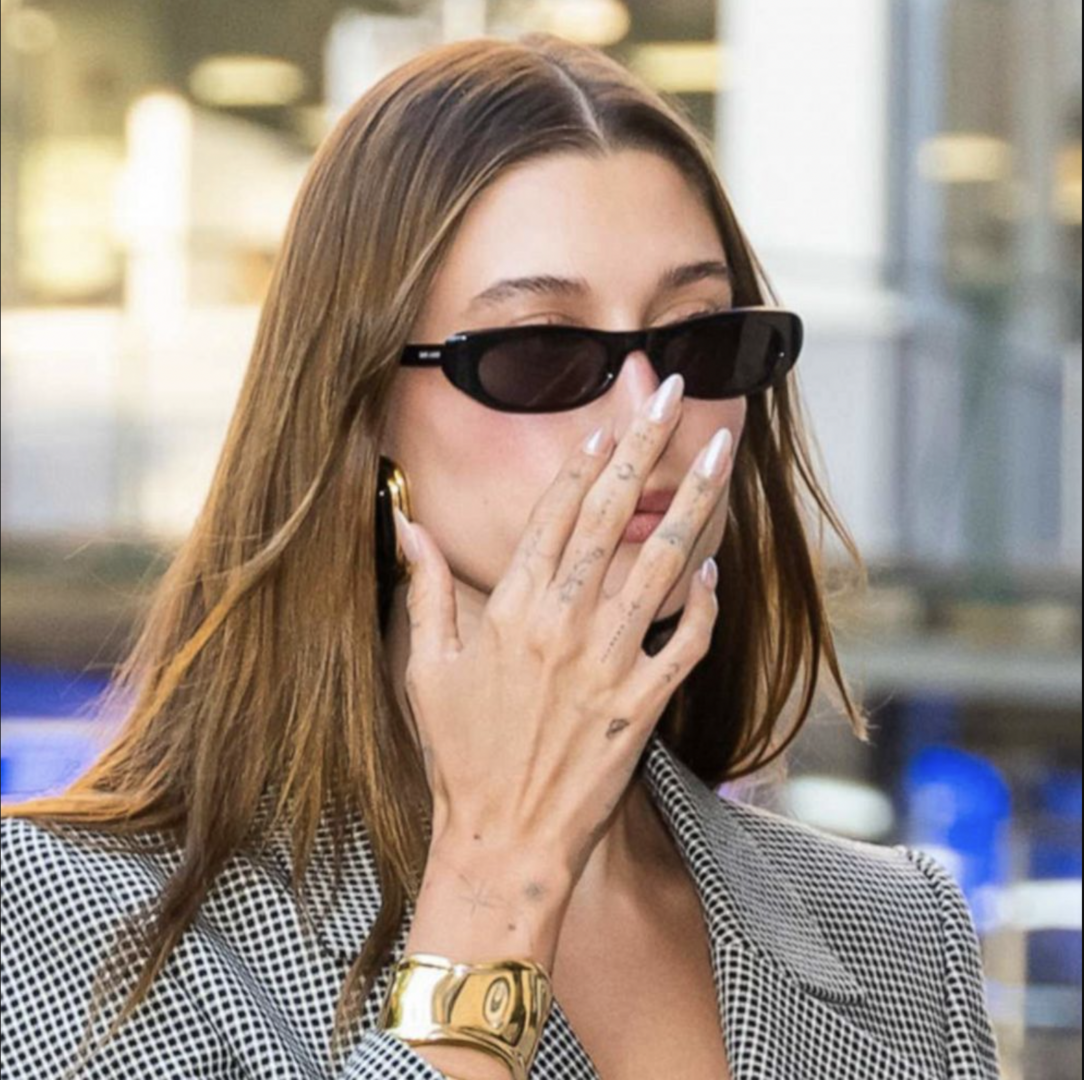 There is no disputing that Hailey Bieber has some of Hollywood's most elaborate nail art. She has worn everything from negative space nails to chrome nails over the years. Her most recent creation is a set of gold nails with decorations made of diamonds. Although many people might believe that this kind of design would be challenging to execute, Bieber makes it seem simple.
About her husband, the newest Bieber antics have the singer being charged with damaging a wall in Rio de Janeiro. According to reports, Justin Bieber and his group spray-painted the graffiti, which reads "Beliebers 4 Life," while they were in town for the Formula One race in Brazil.
Bieber has been in the news for controversy before. In fact, he has developed a reputation for acting badly over the last few years. Whether it's getting into altercations with photographers or arriving late to gigs, Bieber always manages to get himself into trouble.
Many folks are curious as to why Bieber never seems to act appropriately.
Remark claims that the glazed donut effect can also be created using a few coats of ordinary polish. Ganzorigt uses a variety of salon-quality gel polishes from OPI and Daisy Manicure Designs to demonstrate the procedure in the video (many of which are exclusively accessible to nail professionals).