Shown up in the design attached with fresh flowers, beautiful kid model Bao Nhi looked like a princess which made most fans fall in love.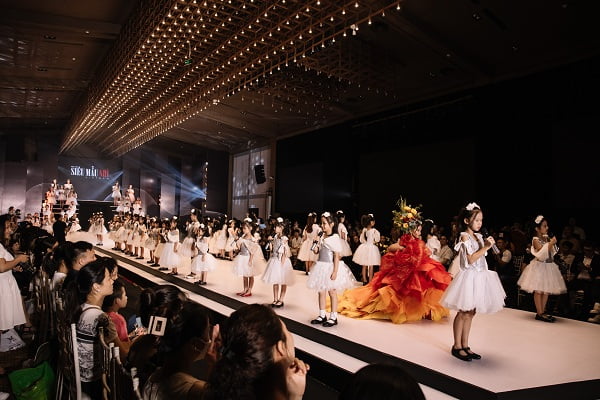 Recently, The Supermodel Children Festival 2022 took part in Hanoi. The audience was able to admire the unique collections by Designer Dac Ngoc and S Designer House Brand such as: Vietnamese Prestigious Sounds and Colors of Continents (Thanh Âm Việt & Sắc màu rẻo cao), Em và Hoa, Color of The Sun, Spring Gate, SOL… The ideas, shape, tailoring, and attachment, all are handled delicately, meticulously and impressively which made the audience feel lost in the colorful art space.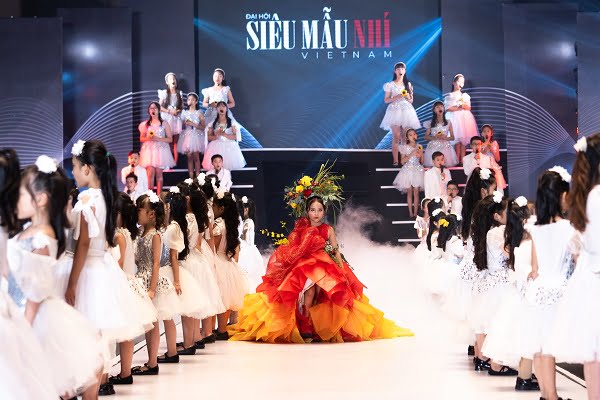 Accompanying the collections of S Designer House are 250 talented and passionate models kids from all over the country. The little angels confidently strode, transforming their styles to match each outfit they wore such as brocade, ao dai or evening gown.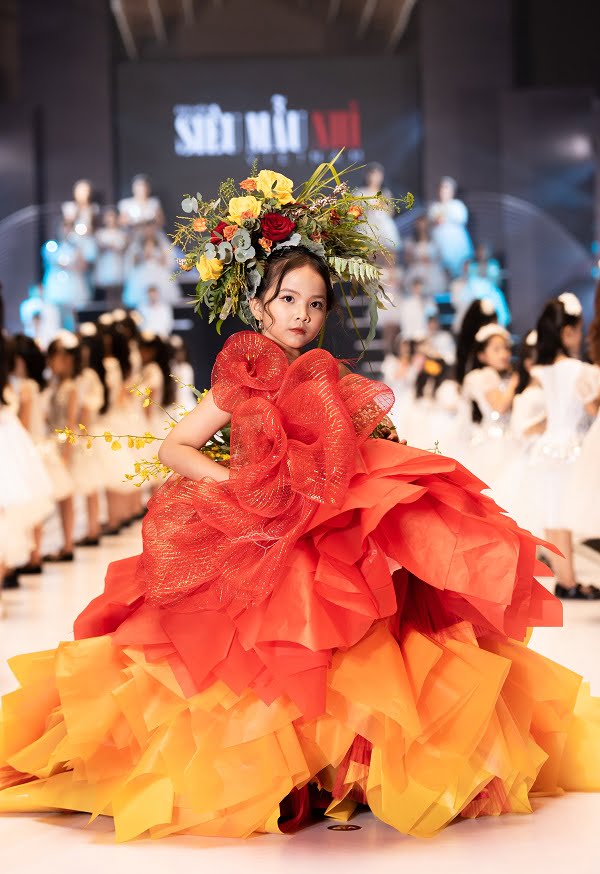 Moreover, Bao Nhi is the face that was chosen by Designer Dac Ngoc to be the vedette for the collection "Em và Hoa" at The Supermodel Children Festival 2022 occurred in Hanoi. The little girl appeared in the collection highly inspired by colorful flowers, she looked gorgeous and bright on every catwalk step.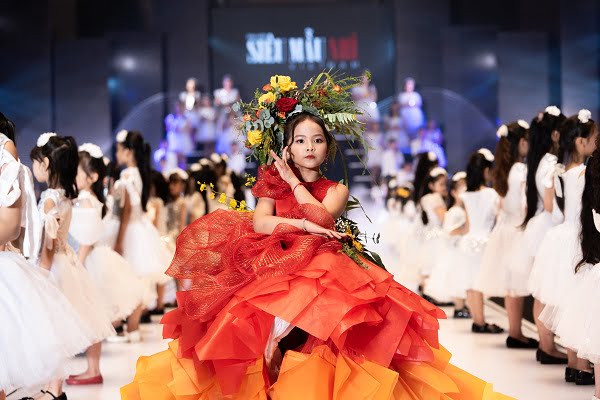 With a bright appearance, professional charisma along with well stage handling, Bao Nhi has brought a wonderful performance as well as successfully conveyed the designer's message to the audience.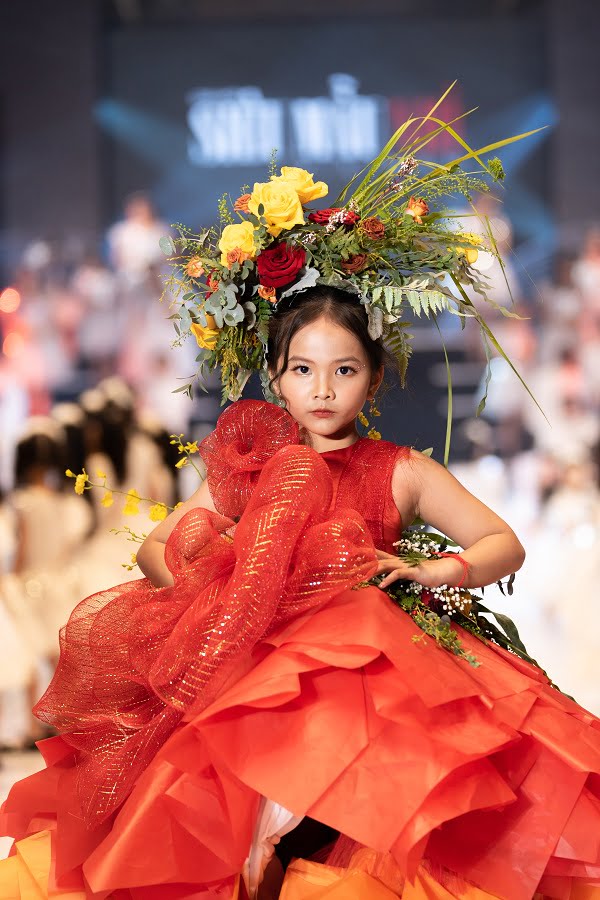 Bao Nhi wore the collection attached sophisticated and meticulous fresh flowers, combined with a long, floating skirt with many layers. The breakthrough between fresh flowers, unique beading techniques, majestic form and the ability to handle the special material makes the outfit become lively and mark its own spark.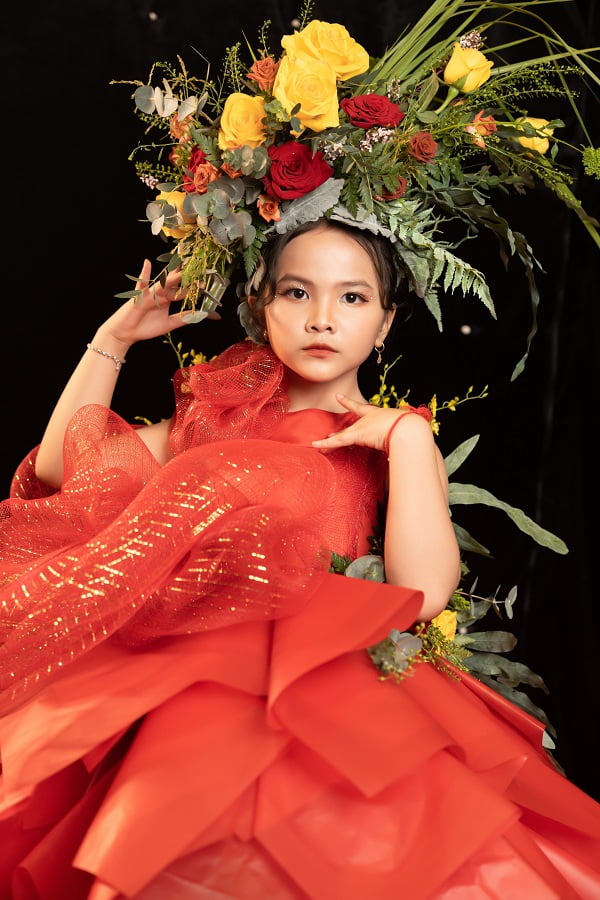 The collection "Em và Hoa" was made by 12-year-old child designer Nguyen Ha Minh Anh – a Fashion Designer Student at Voyage Academy of Modeling and Talent Development, with the support of Flower Artisan Sao Nguyen, Xuan Hien and young designer Thanh Lich from Hanoi University of Architecture.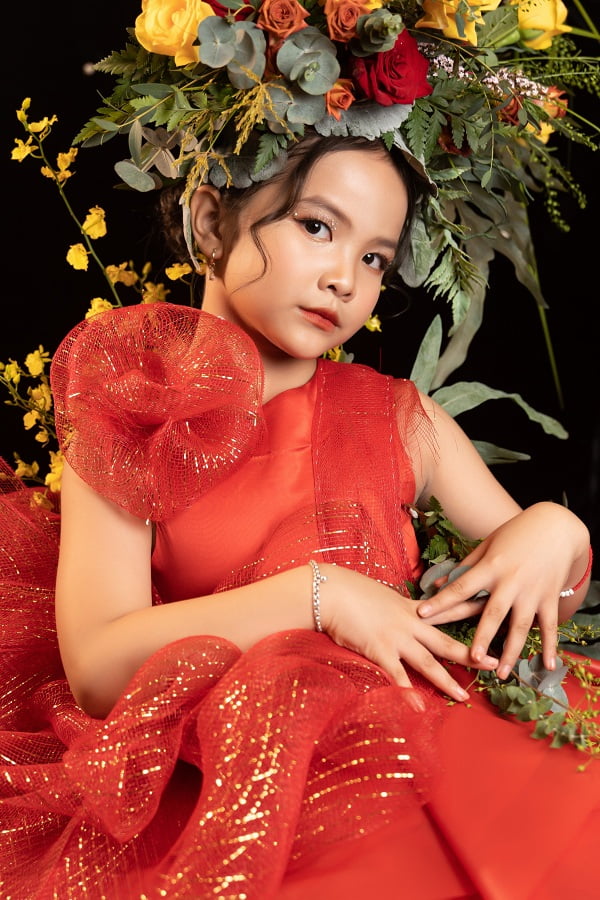 Model Kid Nguyen Phan Bao Nhi was born in 2015 in Hanoi. She has a pretty appearance with her own personality color: stylish, sweet, playful and modern. Thanks to that, although she has not been in the catwalk field for a long time, she has grasped a number of chances to wear costumes designed by a lot of reputable designers and take over important positions during fashion shows including both regional and international stages such as: Fashion show Color World 2020, W Fashion Show 2020, GAP's fashion show, Thailand Fashion Week 2022,…
For the first time showing up in Vietnam, The Supermodel Children Festival 2022 is the biggest event for young models ever. The event has attracted special attention from fashion lovers featuring many famous artists: Duong Tu Anh – 1st Runner-up of Miss Vietnam 2012, Tom Kroboth – International hair stylist, Mr. Bhukij Kong Gessarindha – CEO of Alicio Thailand Magazine, President of Bangkok Kids International Fashion Week, Lee Myeong Seok – Director of Miss Universe Korea,…