A nighttime beauty routine is important for several reasons. For one, it allows you to wind down after a long day and prepare for a good night's sleep. Additionally, it gives your skin a chance to repair and regenerate overnight. Finally, a nighttime routine can help you relax and feel pampered before bed.
If you don't have a nighttime routine, now is the time to start! Here are a few wellness tips to get you started:
1. First, remove all your makeup. This will help your skin breathe and prevent breakouts. Use a gentle cleanser and cotton pads to remove makeup from your face, neck, and chest.
2. Next, apply a night cream or serum. This will hydrate your skin and help it repair overnight. Look for products with ingredients like retinol or hyaluronic acid.
Some tips for nighttime beauty routine
Cleansing
When it comes to cleansing your face at night, two is always better than one. That's why the double cleansing method with oil and foam is the best way to cleanse your skin before bed.
This two-step process starts with an oil-based cleanser that breaks down makeup, dirt, and impurities. Then, follow with a foaming cleanser to remove any remaining residue. This combination will leave your skin feeling clean, refreshed, and ready for bed.
The best part about this nighttime beauty routine is that it only takes a few minutes to complete. So if you're looking for a simple way to get better skin, double cleansing with oil and foam is the way to go.
Toning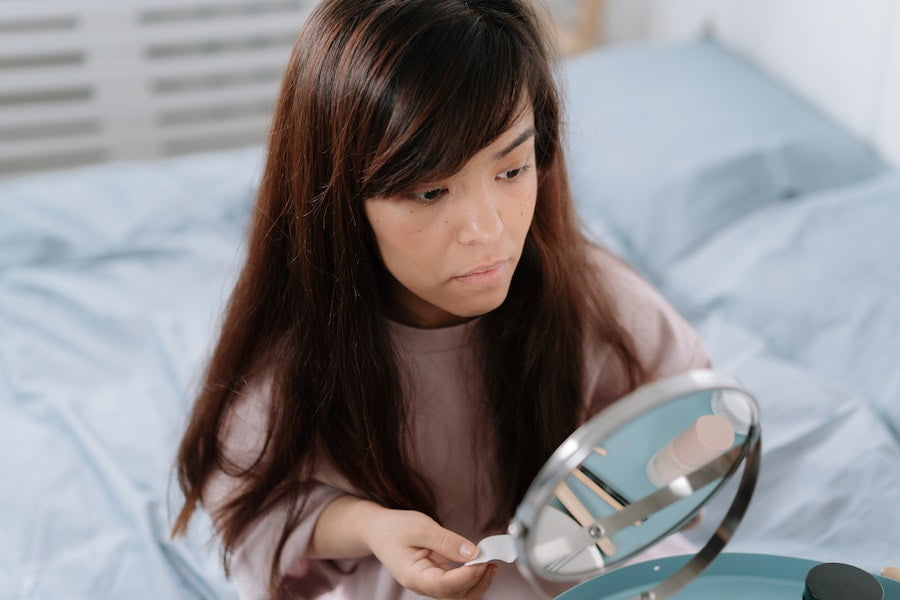 It's that time of year again when the temperatures start to drop and the days get shorter. There's nothing better than coming home after a long day and getting cozy with a good book or your favorite television show. But before you can relax, you have to take care of your skin. This includes using an alcohol-free toner as part of your nighttime beauty routine.
An alcohol-free toner is an important step in keeping your skin healthy and hydrated during the colder months. Toners help to remove any dirt or makeup that may be left on your skin after cleansing. They also help to restore the pH balance of your skin, which can be disturbed by harsh weather conditions. There are many benefits to using an alcohol-free toner as part of your nightly beauty routine.
Treating
If you're looking for a way to up your nighttime beauty routine, look no further than acne spot treatment and serum for wrinkles. These two products are essential for keeping your skin looking its best. Acne spot treatment is key for keeping blemishes at bay. Apply it before bed and wake up to clearer skin.
For best results, use a product that contains salicylic acid or benzoyl peroxide. Serum for wrinkles is another must-have in your nighttime beauty routine. It helps to smooth out fine lines and wrinkles, giving you a more youthful appearance. Choose a serum that contains retinol or hyaluronic acid for the best results.
Moisturizing
When it comes to your nighttime beauty routine, face oil and eye cream are a must. Face oil helps to lock in moisture and keep your skin looking plump and hydrated, while eye cream helps to reduce the appearance of fine lines and wrinkles. Here's how to use them:
Start with a clean face. Use a gentle cleanser to remove any dirt and makeup from the day.
Apply a few drops of face oil to your fingertips pads or brush and massage it into your skin in upward motions.
Next, apply a pea-sized amount of eye cream to your under-eye area and gently pat it in until it's fully absorbed.
Finish up by applying your favorite nighttime moisturizer.
How my routine makes me feel
There's nothing like a good beauty routine to make you feel put together and polished. For me, that means taking the time to do a few things before bed each night. Even though it takes a little bit of extra time, it's totally worth it because I always feel so much better when I wake up in the morning. My nighttime beauty routine includes washing my face, applying moisturizer, and using a serum.
I always start by removing my makeup with a gentle cleanser. Then I use a facial brush to really deep clean my skin. After that, I apply my favorite moisturizer. It's super thick and creamy, so it really helps to hydrate my skin overnight. Lastly, I use a few drops of serum on my face and neck. I always wake up feeling refreshed and ready to start the day!
When it comes to beauty, the nighttime is the right time. That's because you can finally take off your makeup, wash your face, and give your skin the TLC it deserves. Here's a step-by-step guide to help you get started on the perfect nighttime beauty routine. First, start by removing your makeup with a gentle cleanser.
Then, wash your face with a mild cleanser and lukewarm water. Next, apply a thin layer of retinol or another anti-aging serum. Finally, moisturize your skin with a thick cream or oil. Remember, consistency is key when it comes to any beauty routine. So make sure to follow these steps every night before bed for best results!