Tết Nguyên Đán, more frequently abbreviated as Tết, is Vietnam's most significant and popular holiday and celebration. According to the Lunar calendar, it is the Vietnamese New Year, which marks the beginning of spring. Tết Nguyên Đán is Sino-Vietnamese meaning the Feast of the First Morning.
The dates of the Lunar New Year vary from year to year, although it usually occurs in late January or early February. Tet Holiday is considered the ideal time for family members to come home and gather together since Vietnamese families are very close-knit. During Tết, Vietnamese go shopping for the New Year and visit pagodas and temples. The items of shopping range from food to clothing to decorations for the house. The Vietnamese think that Tet Holiday is a time to celebrate life after a long year of hard work, so people forget about their worries and focus on making the celebration as joyful as possible. Because of the high regard in which it is held, Tết is frequently consumed with unique, distinctive colors and flavors. Let's look at some of the traditions and customs associated with this unique festival in Vietnam.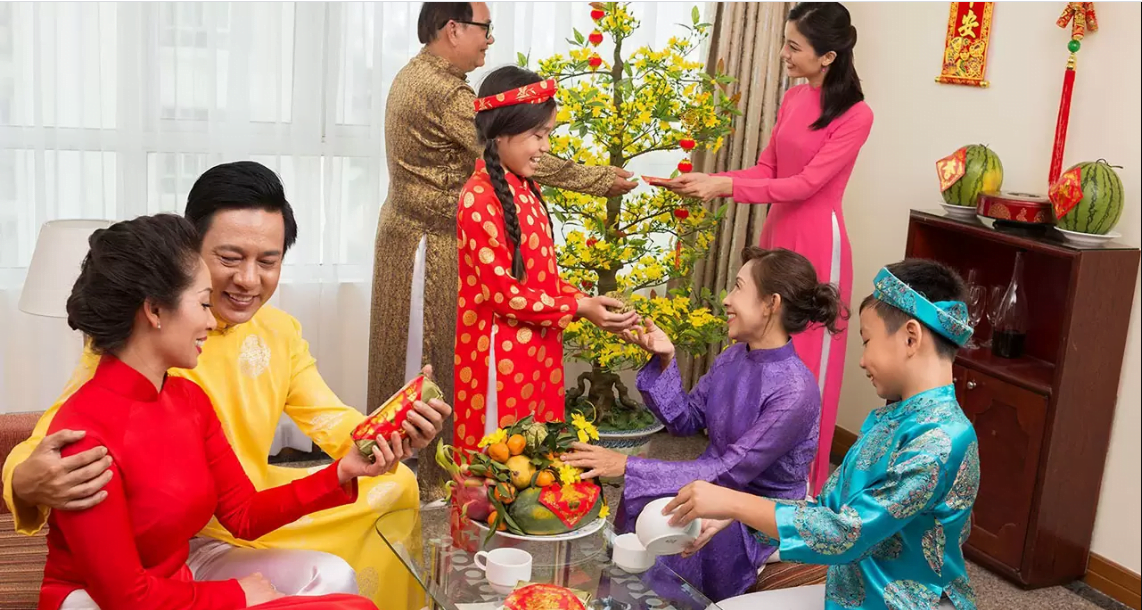 Food
Bánh chưng (Sticky square cake)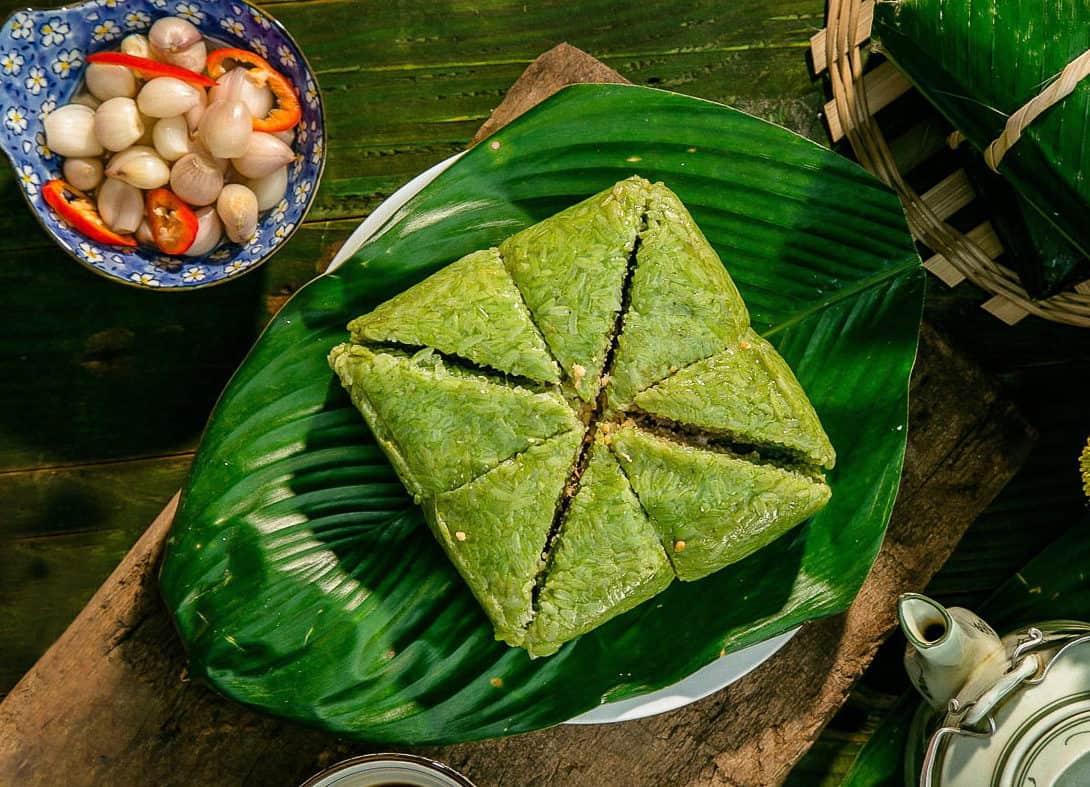 Bánh Chưng is a food made from glutinous rice, mung beans, and pork, as well as a variety of additional ingredients. Bánh Chưng, which is wrapped in green leaves (typically banana leaves) and represents the Earth, was created by Prince Lang Liêu of the Hùng King dynasty. Aside from the traditional reasons, Bánh Chưng is chosen as the main food for Tết because it could last for days in Vietnamese weather (Bánh Chưng can survive at room temperature for nearly 1 month).
Giò, chả (Vietnamese sausage)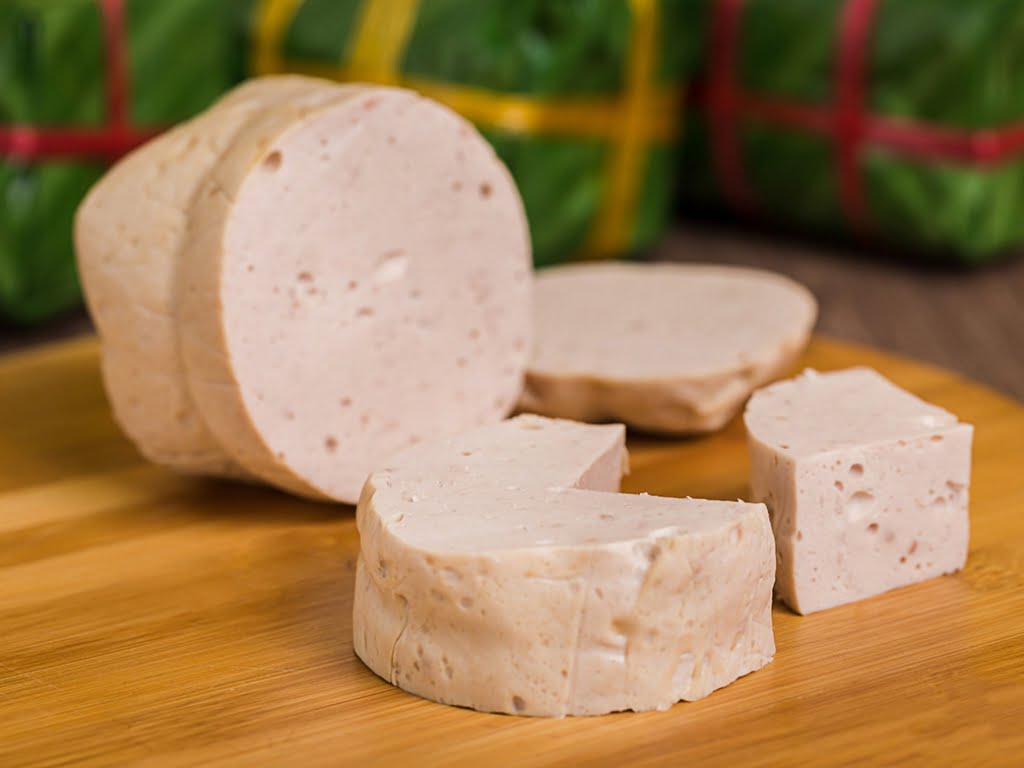 Giò chả (Vietnamese ham/sausage) is another traditional Tết holiday food that is typically served with Xôi (sticky rice) and Bánh Chưng. Giò differs from Chả in that Giò is boiled whereas Chả is deep-fried. Chả is made of lean pork and other ingredients, but it is not wrapped with leaves and boiled, but rather deep-fried in oil.
Thịt kho hột vịt (Braised Pork Belly with Duck Egg)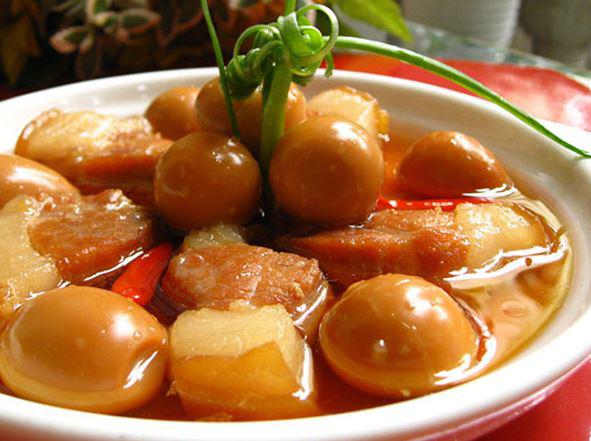 This dish is more popular in the South than in the North, but no one can resist its irresistible smell, flavor, and great compatibility with a bowl of steaming rice. The pork belly and egg are simmered in coconut juice and fish sauce until they are tender and have absorbed all of the delicious flavors. Because the dish is so diverse and simple to cook, it has become one of the most popular dishes served during the Tết Holiday.
Xôi (Sticky rice)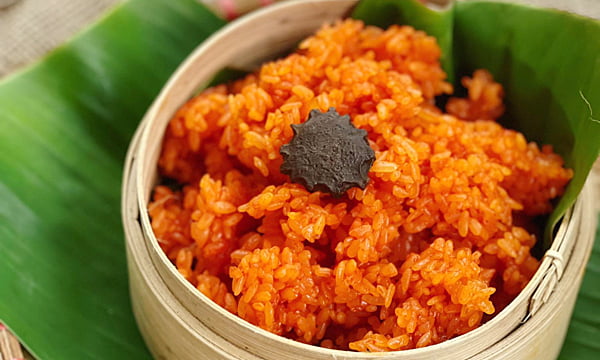 Xôi, like Bánh Chưng, is a very important part of Tết holiday in Vietnam. Xôi is one of the key staple foods for Tết holiday. Xôi can be found in a variety of forms, including Xôi Lạc (sticky rice with peanuts), Xôi Đỗ Xanh (sticky rice with mung bean), and Xôi Gấc (sticky rice with unique "gấc" fruit). Among these, xôi gấc is the most popular due to its distinctive reddish color, which represents good fortune and fresh beginnings for the New Year.
Mứt (Jam)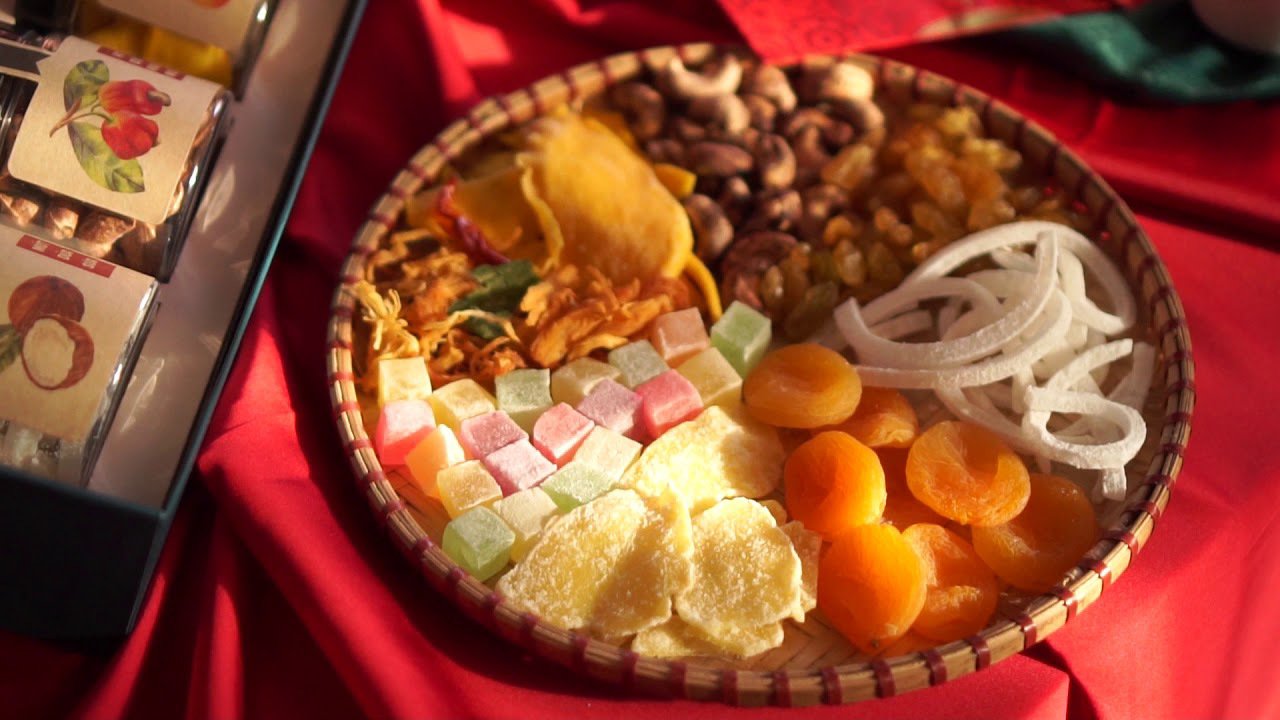 Mứt Tết (Tết jam) is not a meal to be served on the Tết holiday, but rather a snack to welcome guests at this special time. This once-a-year snack combination has a wide range of flavors, including ginger, carrot, coconut, pineapple, pumpkin, lotus seed, star fruit, etc.
Traditional customs
Despite the fact that many Vietnamese traditions are rooted in old cultural beliefs that may appear superstitious to others, families feel that their activities on Tết must include happiness, joy, and good luck. The following are some of the most well-known and long-standing Tết traditional customs that have been passed down from generation to generation.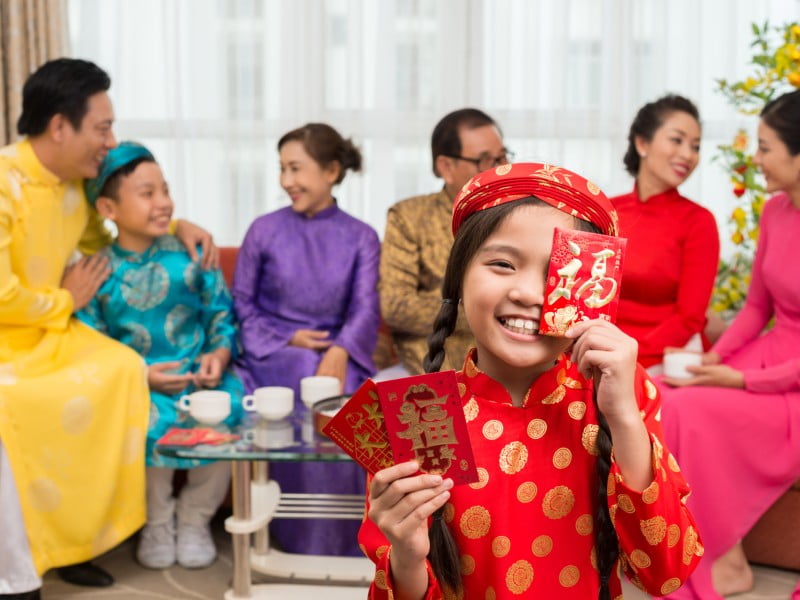 Giving Lì xì (lucky money)
The first day of Tết is reserved for the nuclear family. From their elders, children receive a red envelope containing money. This tradition is known as mừng tuổi (happy new age) in the north and lì xì in the south. Before collecting the money, children usually dress up in their new outfits and say the traditional Tết greetings to their elders.
Xông nhà
Because the Vietnamese think that the first visitor a family receives in the year determines their fortune for the whole year, no one enters a house on the first day unless they are first invited. One of the most significant traditions during Tết is being the first person to enter a house, which is known as xông đất, xông nhà, or đạp đất. According to Vietnamese tradition, if a family has good fortune on the first day of the lunar New Year, the entire year would be blessed. Typically, a person of decent temper, morality, and prosperity will be the host family's lucky sign and will be invited first into the house.
People visit relatives and friends during the next few days. Traditionally, but not always, the second and even painting their home in preparation for spring, settle old debts and disputes, and pledge to behave kindly and work hard in the new year.
Decorations
Traditionally, each family displays a "Cây nêu," an artificial New Year Tree made of a 5 to 6 m long bamboo pole. Depending on where you live, the upper end is usually decorated with a variety of things such as good luck charms, origami fish, cactus branches, and so on.
Every house in Tết is generally decorated with hoa mai – Ochna integerrima (in the central and southern regions of Vietnam), hoa đào – peach flower (in the northern part of Vietnam), or hoa ban (in mountain areas). In the north or central, the kumquat tree is a popular decoration for the living room during Tết. Its vivid orange fruits symbolize the family's expectations for fertility and fruitfulness in the coming year.