Staying healthy when you're a busy mom can seem virtually impossible. The good news is that the following healthy weight loss smoothies are not only delicious but may also provide you with the energy you need to get through the day, regardless of how old your children are. They are not only simple to prepare but also simple to consume.
Avocado Kiwi, and Spinach Smoothie
As a working mother, here are three elements that help you eliminate toxins from your system. Avocado and spinach are high in fiber and vitamins, while Kiwi provides numerous health benefits.
1/2 Avocado

1 cup spinach

1 kiwi

1 scoop vanilla protein powder

1/4 frozen banana

Read more: Weight loss gummies: Does it work?
Pumpkin Ginger Protein Smoothie
Ginger is an antibiotic that relieves muscle pain and inflammation. It can also help with nausea, while pumpkin is high in antioxidants and vitamin A. This is an excellent detox meal for a working mother. 
1/4 cup pumpkin puree

1 scoop protein powder

3 tbsp coconut milk

1-inch piece of ginger peeled

1 cup coconut water

1 tbsp milled flaxseeds

Optional: ice cubes or frozen banana to make it thicker

Chocolate and Berry Smoothie
Chocolate offers various health benefits, including heart and skin health. Berries are excellent for weight loss since they lower cholesterol levels. If you incorporate this weight loss smoothie into your diet, you will no longer have to miss meals.
1 cup frozen berries

½ cup (120g) Greek yogurt

2 medjool dates

1 ½ tbsp. cocoa powder, natural

½ tsp. vanilla extract

1 tbsp milled flaxseeds

Oatmeal, Banana, and Strawberry Smoothie
Oats are a common nutritious household item, make a terrific weight loss smoothie, and are high in soluble fiber. Blend them with bananas and strawberries to produce a meal replacement smoothie for yourself.
1/2 cup (150g) blueberries, frozen

1/2 medium bananas, ripe

4 tbsp. rolled oats

1 tbsp. almond butter

1 cup (240ml) almond milk, unsweetened

2 medjool dates

1 scoop (25g) vanilla protein powder

Read more: 7 Fruits Low In Sugar For Your Weight Loss Diet
Coconut milk and Pineapple Smoothie
With this smoothie, you may stop skipping meals and improve your immune system while losing weight. Blend well and add 1 tsp honey and 1 tsp lemon juice; you can also add half a cup of fresh strawberries.
4 tbsp. oats

1 cup (240ml) almond milk, unsweetened

1 cup (100g) pineapple chunks

4 tbsp. desiccated coconut

¼ cup (30g) walnuts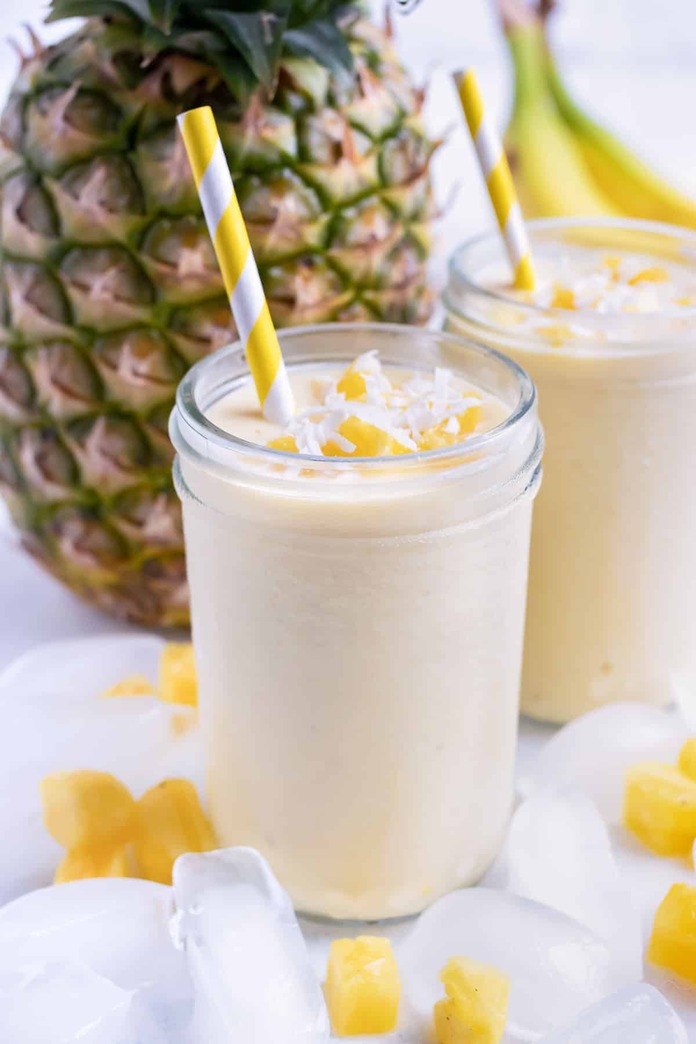 Read more: 8 Grand Weight Loss Apps Free Assist You in Achieving Your Goals
Working mothers have little time to care for themselves and are constantly occupied with household tasks. But smoothies are the simplest dishes to make on earth. All you need are your favorite fruits and veggies, as well as a combination of ice, water, and juice for blending.