The butterfly design has recently been popular in the fashion industry, showing up on all of the runways and becoming sought-after by celebrities and stars in the entertainment industry.
This iconic denim butterfly crop top of Blumarine has made its way across the K-Pop business, with numerous popular female stars wearing it on various occasions. The denim crop top is really magnificent, and it pulls out these celebs' jaw-dropping images even more than normal, making it one of the most desired apparel pieces right now.
That might explain why it was seen on many separate K-Pop female superstars. TWICE's Nayeon, Red Velvet's Seulgi, LE SSERAFIM's Kazuha, BLACKPINK's Jennie, NMIXX's Sullyoon and Haewon, and Apink's Bomi all looked stunning in crop tops, each in their own way.
After British music artist Dua Lipa posted multiple photographs on Instagram wearing a breathtaking denim-on-denim Y2K look, the Blumarine denim butterfly crop top became a hot topic. Fans from all around the world fell in love with the exclusive crop top.
TWICE's Nayeon
Nayeon was among the first few idols to wear the stunning garment, and eventually, the trend spread to the K-Pop sector as well. Nayeon opted to wear the crop top with a pair of light blue trousers from Blumarine that have butterflies embroidered on them. During her "POP!" performance video for Studio Choom on YouTube, the TWICE singer looked more than lovely while wearing denim. Nayeon's main accessory for the outfit was a Deli Cross necklace from BlackPurple.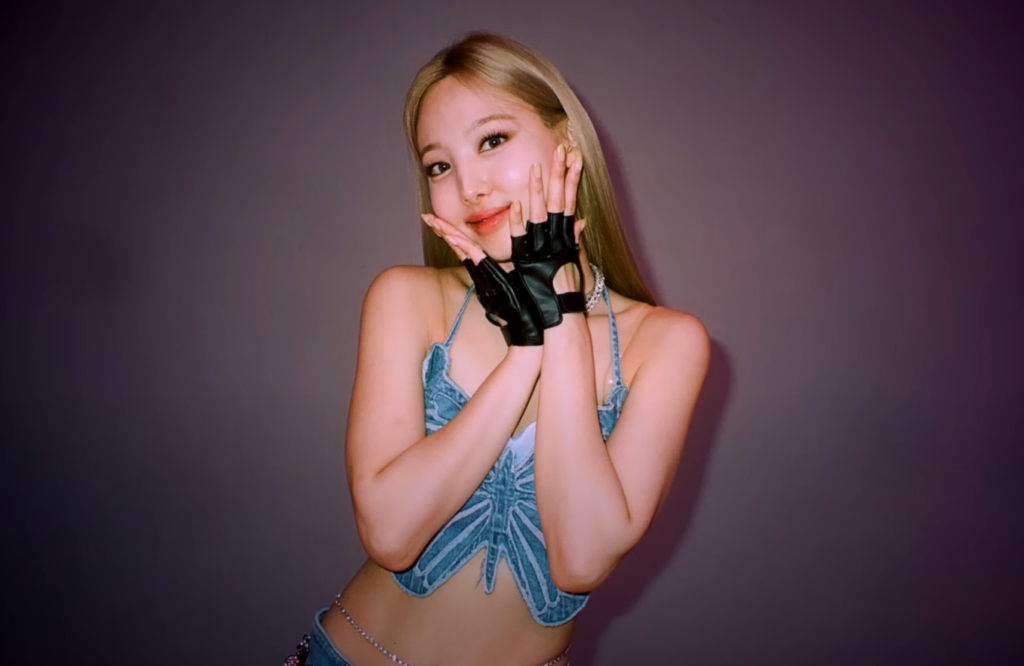 Red Velvet's Seulgi
While Nayeon wore it while performing in a dance, Red Velvet's Seulgi was photographed wearing the denim butterfly crop top during her photoshoot for Vogue Korea. Seulgi did a fantastic job showcasing the distinctive necklaces and bracelets during the Vogue photo shoot, which was part of a marketing campaign for the well-known jewelry line FRED.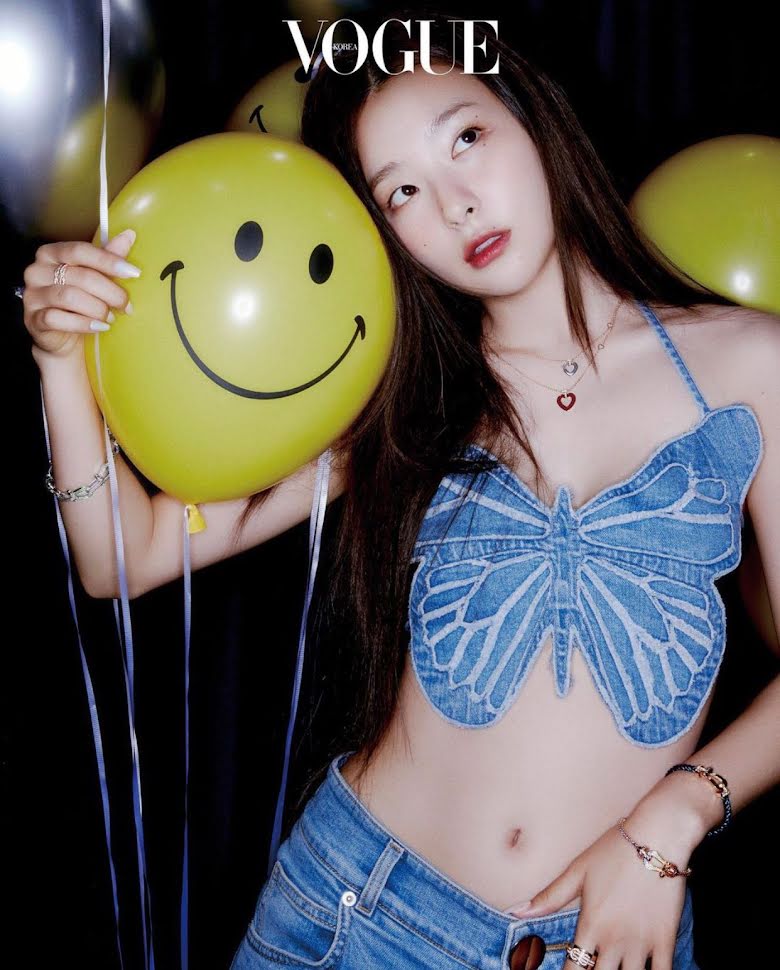 The Red Velvet star's appearance was quite different while sharing the same Blumarine blouse and embroidered pants as Nayeon because of the jewelry she was wearing. The gloomy backdrop, happy balloons, and FRED's assortment of "Pretty Woman" necklaces in various colors worn with his "Force 10" bracelets provided the denim ensemble an edgier vibe. It was further enhanced by Seulgi's sharp appearance and deeper cosmetics.
LE SSERAFIM's Kazuha
One of the most recent idols to flaunt the denim look is Kazuha of LE SSERAFIM; not only did she execute it flawlessly, but she also gave it her own unique spin, once again mesmerizing fans with her unique looks. During the group's performance of their most recent hit, "UNFORGIVEN," Kazuha made the decision to wear this denim butterfly crop top.
The LE SSERAFIM star opted for a different pair of light blue jeans than Blumarine's ones with butterfly embroidery, even though she also wore it with them as Nayeon and Seulgi did. Kazuha decided to go with a pair of light jeans from the company's Spring 2023 #6 Look.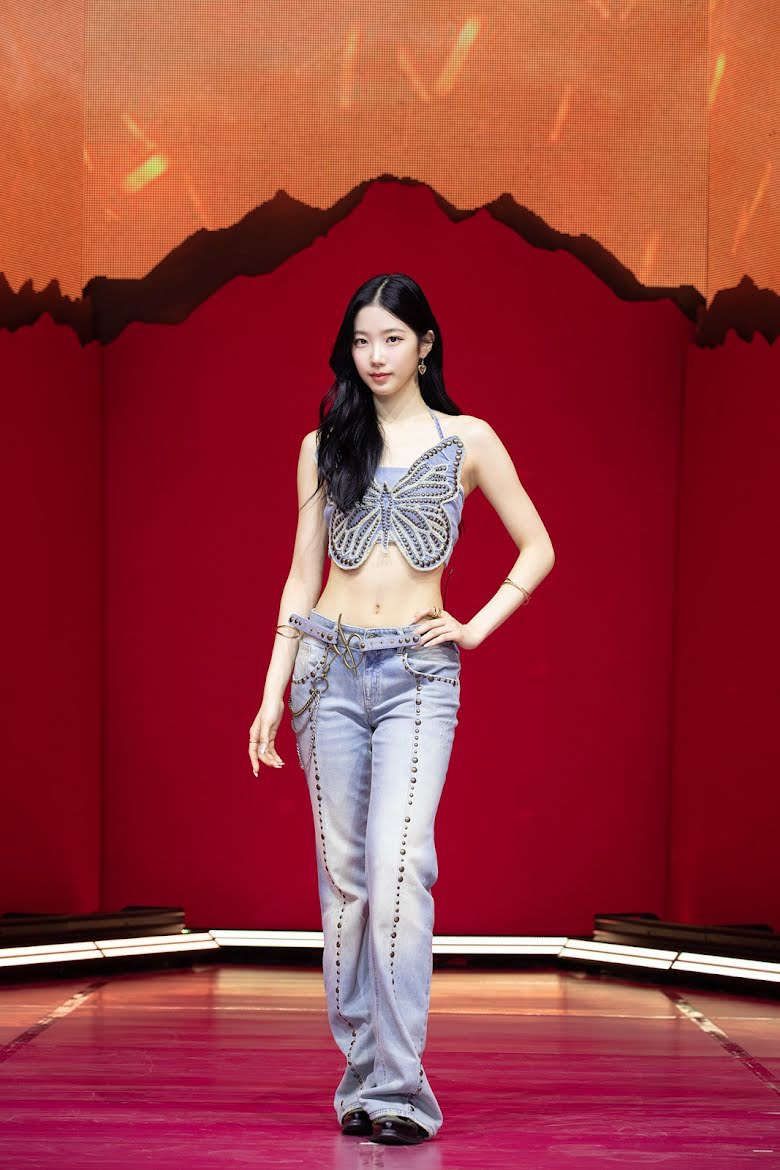 Kazuha's remarkable proportions were highlighted by the low-flared jeans, which also highlighted her towering frame. Kazuha's "UNFORGIVEN" performance was further enhanced by the additional chains and pearls embroidered on the denim, which also gave off a forceful vibe.
Read more: Here Is Everything About Kpop: A Global Phenomenon
NMIXX's Sullyoon and Haewon
Sullyoon and Haewon of NMIXX gave this denim butterfly crop top an upbeat and sporty vibe by wearing it with short trousers and broad leggings. The public also praised the spectacular visuals of the idols.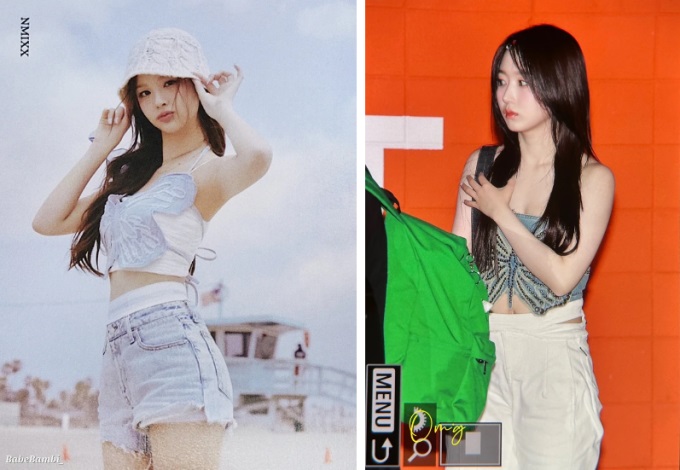 Apink's Bomi
During the fan meeting for CHOBOM, the subunit consisting of Bomi and Chorong, this denim butterfly crop top was also spotted on Apink's Bomi. Bomi, as opposed to Seulgi, dressed more appropriately for the fan meeting by adding a tube underneath the butterfly top.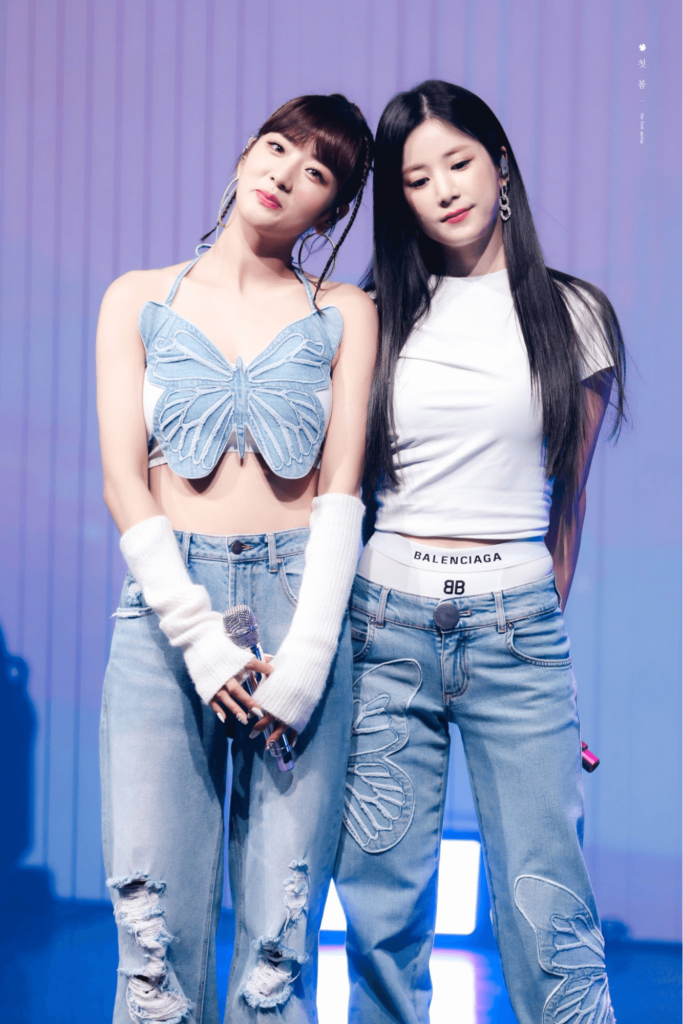 BLACKPINK's Jennie
Just like Nayeon, Jennie also chose to match the crop top with a pair of butterfly-embroidered light blue Blumarine slacks. Jennie's black glasses, meanwhile, are what make this ensemble unique. Compared to other female K-pop performers, Jennie's outfit is more distinctive and vibrant.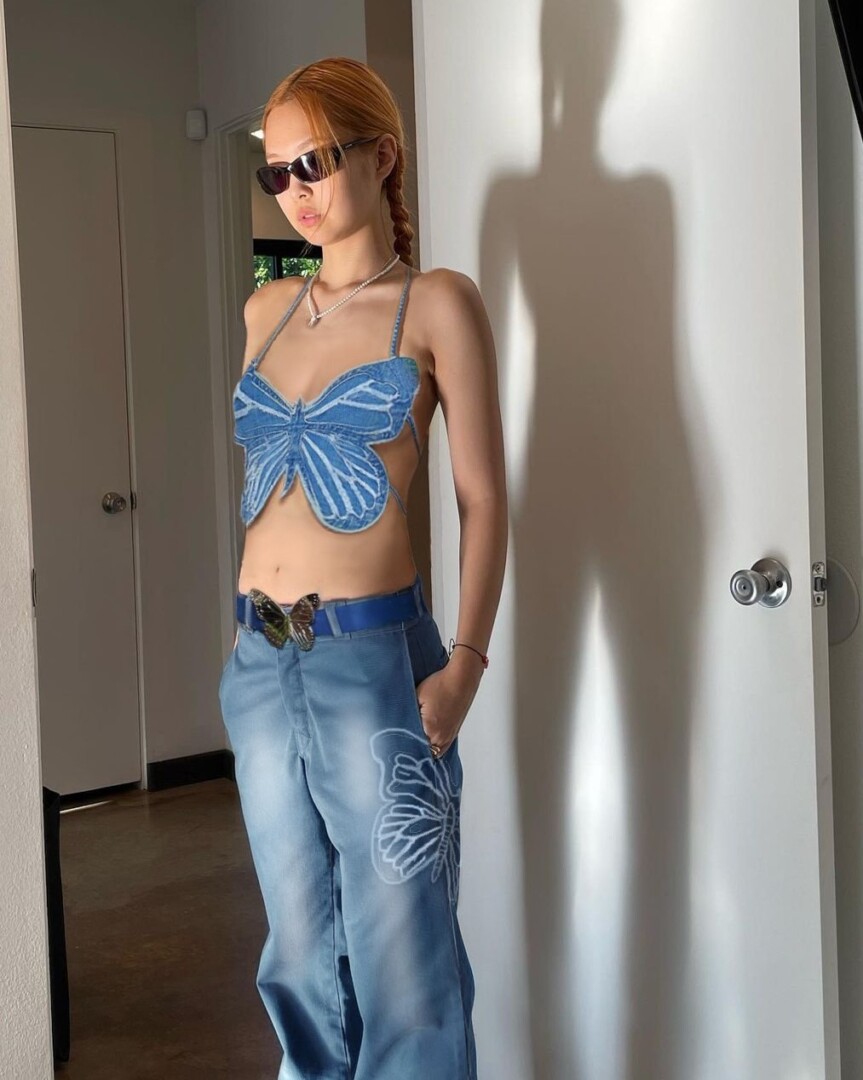 Read more: Jisoo (BLACKPINK) is one of three only female artists to cover Vogue France